If you're creating any type of vector artwork in Adobe Illustrator, you'll likely have to blend colors at some point or another. And if you want your blend to look seamless, you can take a few simple steps to make sure the mix looks natural and smooth instead of choppy and disjointed. In this tutorial, we'll go over the basics of how to blend color in Illustrator with the Blend Tool.
Blending in Illustrator is one of the many features that makes this program so popular among graphic designers and illustrators.
You can do a lot with it, including overlapping layers or shapes, blending colors, and applying blending effects. It will create a more vibrant presentation and make your document look outstanding.
We will be breaking down this tutorial step-by-step so that you can use this technique on your projects.
So, let's get started!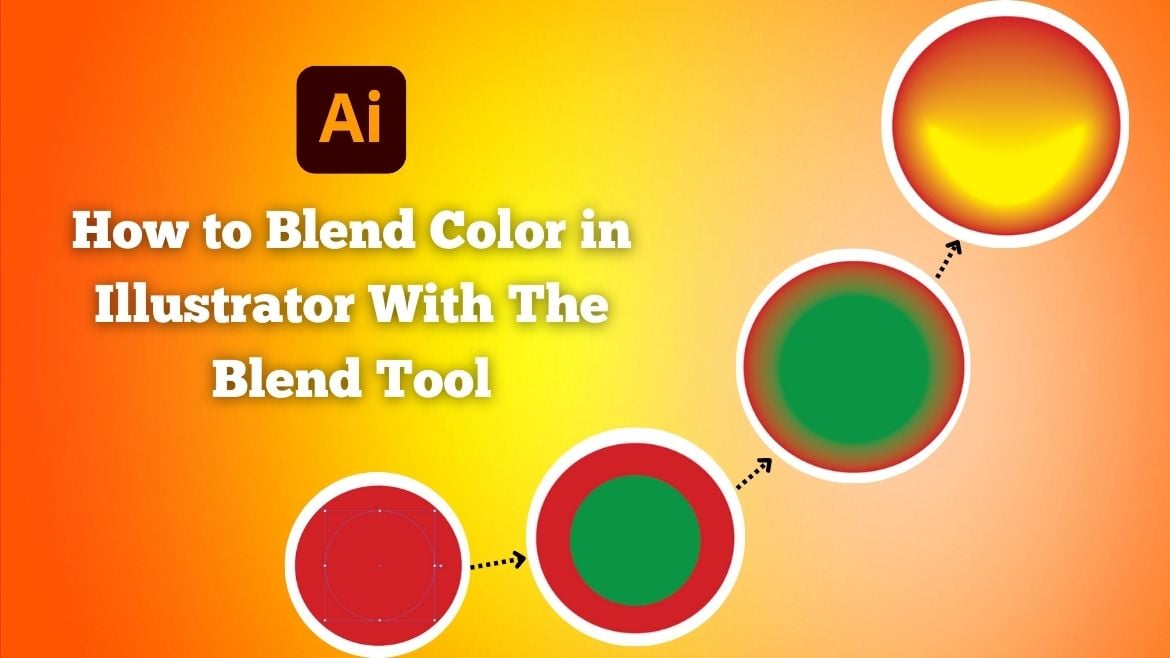 Use Code: BLOG10 At Checkout To Save 10% off our Online Adobe Illustrator Courses
Table of Contents
Step by step guide on how to blend color in Illustrator
Step 1. Open a new document on Illustrator
First of all, to get started, open Illustrator and create a new blank document of any size.
Just hit Create
And here we have our new document
Step 2. Draw a shape
To create a seamless blend between two colors, we must first draw two shapes.
For this tutorial, I am drawing circles that I made using the Shape Tool.
The objects do not have to be perfect circles or ellipses for blending purposes, and they don't have to be this exact shape.
You can draw a shape like a square or even something more detailed like a polygon with the Tool shape in the left corner.
Change the fill color to something other than white to see the object you just drew.
After you select the color of your choosing, just hit OK.
I suggest that you also remove the stroke from your circle, so it just has a solid color.
Now let's draw another shape within this current shape – it can either be larger or smaller.
The size of the shapes doesn't really matter for this example.
In this case, I decided that the second circle would be smaller.
Now move the smaller shape towards the center of the larger shape, and choose a different color for this one so that you can blend the two colors together.
You can choose whichever color you want. In this example, I used green.
Step 3. Blurring the Shapes
To blend colors in Adobe Illustrator, select the entire document, then go to Object > Blend > Make.
This is how you can make your blend look like a gradient from one color to another.
And this is the after-effect.
Step 4. Editing Options
If you are not satisfied with how your shapes or colors look, you can always make changes to your desire.
For example, you can make it yellow by using the Fill button.
Or you can make it like a different shape into an ellipse or whatever random shape you want.
Just go to the Curvature Tool and move it around your document to get a certain shape you want.
And here is the final result.
Well done to you!
Closing

remarks
Understanding how to blend colors in Illustrator is vital for using tools like Illustrator's Blend Tool.
The Blend Tool is incredibly simple to use, and it allows you to create a myriad of color blends.
Now that you know how to blend colors in Illustrator with the Blend tool, it's time to start making some masterpieces.
The best thing about blending is that it offers a lot of variety, so have fun and try out new things.
Be sure to play around with the options at your disposal and make different blends!
Then, once you're done using this tutorial as a guide, try creating your own color blend combinations for a unique effect every time.
Adobe Certifications & Prep Courses
Are you looking to get Adobe Certified?
FMC Training is the leading provider of Adobe certification exams. We've helped thousands of people just like you pass their certification exam and land that dream job. Our training material is written and recorded by industry experts who know what it takes to succeed in today's competitive market.
Join our ever-growing Facebook group and ask any Adobe Illustrator questions you might have!
Check out other useful Adobe Illustrator tutorials: