A video editor is responsible for putting together raw video footage to create a finished product that tells a story. If you have a passion for storytelling and a creative eye, you should consider a career in video editing.
Pursuing a career in video editing can be incredibly rewarding, both creatively and financially. Just take a look at all these accolades - including the Academy Awards for Best Film Editing - that video editors get! You can achieve success in this exciting field with hard work and dedication.
If you are interested in pursuing a career in video editing, we will describe everything you need to know in this blog post.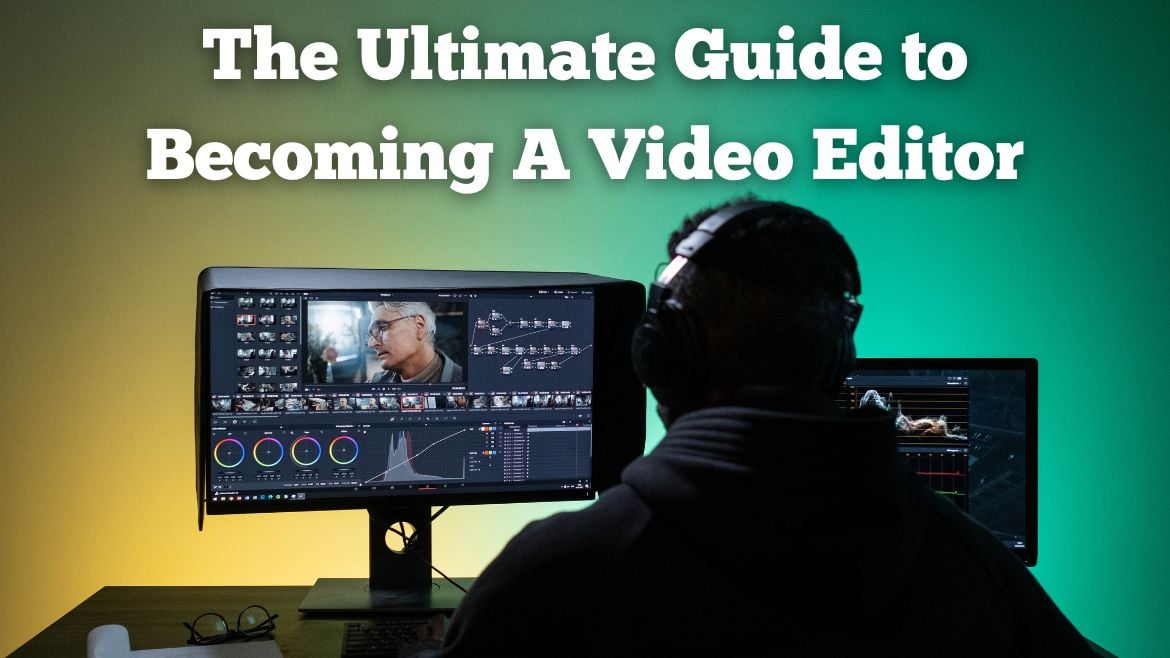 Table of Contents

The Magic World of Video Editing
Imagine yourself in a darkened movie theater and your attention fixed on the screen. You may have been so engrossed in the film that you didn't notice how effortlessly each sequence blended into the next or how well the sound matched the action. This is the magic of video editing.
Now, let us show you how things usually don't start in this pristine form. Shooting a film is not the same as capturing a single still photo. Cinematographers are not magical wizards who can capture each ideal shot every time, no matter the situation. And even the best actors sometimes need a few takes to get things just right. Even though a typical film lasts around an hour and a half, it generally starts with hundreds of hours of raw footage.
Selecting the best raw footage for a film is known as video editing. Unusable footage includes mistakes by actors, poor camera angles, and no movement in the story. Each segment should smoothly link to the following during the video editing process.
While editing a video, one aspect to consider is sound. Adding sound effects to a film at the right moments may make it appear as part of the original video. In most cases, audio effects can help set the pacing of the video or set the mood of the scene. Sound effects such as explosions or easy footsteps might be used. Background music is frequently included.

What Does a Video Editor Do?
The video editor has to construct a narrative utilizing video and sound material. As a video editor, you will work with a team of creatives to bring each project to life. You will need to be able to collaborate closely with others and take direction when needed. In addition to having strong technical skills, it is also important to understand the principles of good storytelling.
Now, imagine your typical day as a video editor!
You might work for an agency, a media firm studio, a YouTube celebrity, a network, or a freelancer. Freelancing entails periods of intensive labor and downtime between projects, which you may use to follow up on possible work. You may be competing for project work with other freelance editors, and you could be working on many different productions at once.
You might work for a boss or be self-employed. You could be a freelancer or work in a small team. If you are a part of a team, the team members frequently work from home or remotely but sometimes work in an office or a studio.
You are expected to produce at least one or two 5-10 minute videos per day or one longer 15-30 minute video or segment per week. The number of projects they are working on determines the amount of work. Some video editors must work late at night and on the weekends to meet difficult deadlines.
A video editor may have to collaborate with a director, producers, graphic designers, visual effects artists, post sound team, assistant editors, and a composer on any project.
You will spend time talking to clients, spending a significant amount of time editing footage, importing and organizing it, going through several phases of cuts, and delivering the final product.

Video Editor Education And Training Requirements
Filmmaking Education
Many professional video editors learn independently, although many others pursue an associate's or bachelor's degree in a film production area. Video production workshops teach you how to use video production tools and software.
Expertise with Video Editing Software
Video editors working in a professional environment must be comfortable with standard industry-standard software and use sophisticated editing tools.
Prior Expertise
Many employers favor applicants who have worked in the business as an editor, assistant editor, production assistant, or intern before. Experiences demonstrating competence in the professional environment, typical operations, and collaboration are listed below.
Professional Organizations
Being a member of an organization can verify the skills and expertise of a candidate, as opposed to simply their credentials. The leading professional associations for video editors are the Motion Picture Editors Guild and the American Cinema Editors (ACE).

Top Seven Video Editing Skills
When it comes to building your resume for your first video editing job, don't forget these top skills that all great video editors share:
#1: Attention to detail
You can focus and deliver precise work. You must be able to judge each element of your work and the overall completed project as a video editor.
#2: Flexibility
When your environment changes, you must be adaptable and flexible. Video editors must be flexible in this business since there are frequently unforeseen concerns, such as manufacturing delays.
#3: Self-discipline
Self-discipline is an essential component of video editing skills because you frequently have to work alone and keep track of yourself. If you have self-discipline, you don't need to be kept on a tight leash to ensure that you fulfill your obligations.
#4: Organizational skills
Because they enable you to combine several shots into a coherent piece, organizational skills are an important video editing element. You must be able to handle many projects at once and complete them on time as a video editor.
#5: Interpersonal communication
The capacity to communicate implies that you can effectively catch and pass on a wide range of data. It's crucial for video editors because they frequently collaborate with a variety of experts, including:
Music producers
Special effects editors
Sound editors
Cinematographers
Directors
Producers
Graphic designers.
#6: Problem-solving and time-management skills
Evaluating a problem and developing a successful solution is a problem-solving skill. In video editing, you must employ this skill to construct a complete and coherent plot from the footage you are given.
#7: Experience with video editing software programs
Finally, you'll need the knowledge of a wide range of editing software solutions, such as:
Sony Vegas
Autodesk Smoke
Lightworks

Career Fields In Video Editing
A video editor may work in various locations depending on the activities you want to perform and the productions you wish to produce. Here are some of the most frequent job categories in video editing.
A Film Video Editor
Set video editors generally work on location for movies, short films, or low-budget independent pictures. They usually work closely with the director, cinematographer, and sound editors to combine sequences that fit their standards while telling the story they want to communicate. Suppose you work on an independent film with a small team. You would be expected to handle all aspects of video editing, including sound design, color correction, and more.
A Freelance Video Editor
You may produce videos for weddings, independent films, or local business advertisements as a freelance video editor. You may travel the world and be a "digital nomad," shooting and editing videos for a travel channel.
A YouTube Video Editor
You may work on adventure videos, vlogs, instructional films, and more for a YouTube Creator.
A Network Video Editor
Your job would be to edit news stories, TV shows, or movies. You may work for a network such as NBC, ABC, or CBS. A video editor at a media firm may combine promotional videos, TV series, TV films or documentaries, commercials, interviews, other corporate content, or website content.
A Post-Production Video Editor
You may work in a post-production house where you would edit commercials, films, and TV shows. In this environment, you would work with a team of other editors and may be asked to do more specialized tasks such as color correction or sound design.
An Ad Agency Video Editor
An agency's video editor may create branding videos, short commercials, Youtube spots, or interviews. Agency life is known to be fast-paced and very demanding. Some people love it, while others quickly burn out.
Assistant Video Editor
An assistant video editor is usually the first position held by someone who wants to be a video editor. As an assistant, you would be in charge of digitizing and logging footage and performing other duties such as transcribing interviews, building graphic effects, and preparing the editing workspace.
Post-production Manager
A post-production manager is in charge of the editorial team and is responsible for ensuring that deadlines are met and that the project stays within its budget. A post-production manager may also be involved in the creative aspects of production, such as storyboarding and casting decisions.
Television Studio Editor
Editors on projects with budgets in the millions of dollars often work for international or local film production companies, which supply material for various TV formats. These videos are often accompanied by soundtracks, music, and other special effects to make them more engaging for the audience to view. Some TV editors may help manage the design, camera angles, lighting, and sound during production to guarantee that shows are consistent with their edited material.
Broadcast Engineering Technician
A broadcast engineering technician uses sophisticated tools and equipment to improve and regulate the sound and image quality of television programming and news programs. Many collaborate with other sound engineers to utilize equipment like frequency analyzers, satellite receivers, and audio mixing consoles.
Marketing Video Editor
Most video editors who work for marketing teams create instructional, informative, and entertaining promotional items for interested audiences to view. These professionals may capture the footage and edit it entirely on their own if they work on smaller editing teams. To guarantee that a firm's marketing video meets the necessary criteria fits the company's image, and accurately reflects the business, most video editors study and understand the client's target market.
Each of these career fields has its own unique set of challenges and rewards. If you're thinking about becoming a video editor, it's important to do your research and choose the path that best suits your skills and interests. You can become a successful video editor in many industries with the right education and training.

Video Editor Salaries
A video editor in the US makes an average of $41,649 per year, according to Indeed.com. Salaries for video editors vary from region to area in the United States. The following are some Video Editor salaries in the United States compared with the national mean:
San Francisco,CA $92K +122.49%
Washington, D.C. $69K +67.27%
Hartford, CT $65K +57.19%
Boston, MA $64K +54.48%
Cleveland, OH $62K +51.13%
Seattle, WA $59K +42.11%
Alexandria, VA $55K +34.28%
Connecticut $55K +33.12%
Los Angeles, CA $54K +30.8%

Working hours
Some employers may require you to work set hours, but a 50-hour week is more probable. Weekend and evening work is common.
If the editing studios are booked at night, you may need to work shifts. You should anticipate working long hours and overtime when deadlines are to be met.
There are many opportunities for freelance work, which offers more freedom regarding working hours.

Tips For Getting A Job As A Video Editor
There are a few things you can do to make sure you put your best foot forward when applying for jobs as a video editor:
Check out online filmmaking employment sites such as

Mandy.com

or

Production Hub

. Industry-specific job boards can help you narrow down your search to the most suitable and rewarding opportunities. Look for video editor jobs on film and TV production job boards.
Participate in online industry forums. Look for public spaces and groups only for individuals working in the film industry. You'll discover job openings, training seminars, networking events, and role-specific job search hints at VolunteerSpot.
Join a professional organization. When you join a professional organization, you generally have access to the group's job board, training opportunities, and networking events.
Look for work as a freelancer. You can use your video editing experience to boost your portfolio and demonstrate your talents to businesses that may be looking for full-time workers in the future.
Assist as an assistant editor. Beginning as an assistant may lead to a promotion to the editor in the future. Look for video editor helper jobs where you may obtain expertise from professional editors.
Choose a specialty in editing. While being able to edit a variety of video projects is beneficial as an entry-level applicant, specializing in a style of editing allows you to market yourself. Documentaries, commercials, comedy TV, and broadcast news or sports are just a few examples of the numerous genres you might specialize in.
Develop a passionate work ethic. Always keep deadlines, communicate with clients, coworkers, and employers when possible, and assist others as much as you can. Having a strong work ethic and other traits such as dependability may help you establish a good reputation.
Become an expert on the latest industry applications. A basic understanding of common video editing software can assist you in locating entry-level employment, such as assistant editor positions, but mastering one industry-standard program can help you stand out from other job applicants.
You'll need a portfolio website. Your top priority is making a professional networking site, a creative portfolio platform, and regular social media sites. You can also post videos of your video editing projects and resume on a portfolio website. This tool can assist potential employers in finding you and your work online.
Courses in Video Editing
FMC Training Network is the perfect place to start your career if you're passionate about film and video editing.
We offer comprehensive courses that cover everything from the basics of video editing to more advanced techniques. Whether you're just starting or looking to take your career to the next level, we can help you develop the skills you need to succeed.
This blog post introduces all the training options you will even need to start (or upgrade) your career in video editing.
Our experienced instructors will guide you through every step of the process, ensuring that you have the knowledge and confidence to succeed in the competitive world of video editing. So if you're ready to start your journey, there's no better place to begin than FMC Training Network.
Contact us today to learn more about our courses and how we can help you achieve your goals!
Join our ever-growing Facebook group and ask any video editing questions you might have!