In the past few years, careers in video editing have taken off. The demand for skilled video editors is at an all-time high, and it's only going to continue to grow.
Today, if you type "video editor" in one of the leading job posting boards - Indeed.com - it will show you 4380 jobs with a starting salary between $15 and $40 an hour! These careers progress quickly to a median salary of $60,000 a year. The top earners in the field make upwards of $85,000 per year.
So, what does it take to become one of these in-demand video editors? This post will talk about careers in video editing and educational resources available for beginner to pro video editors.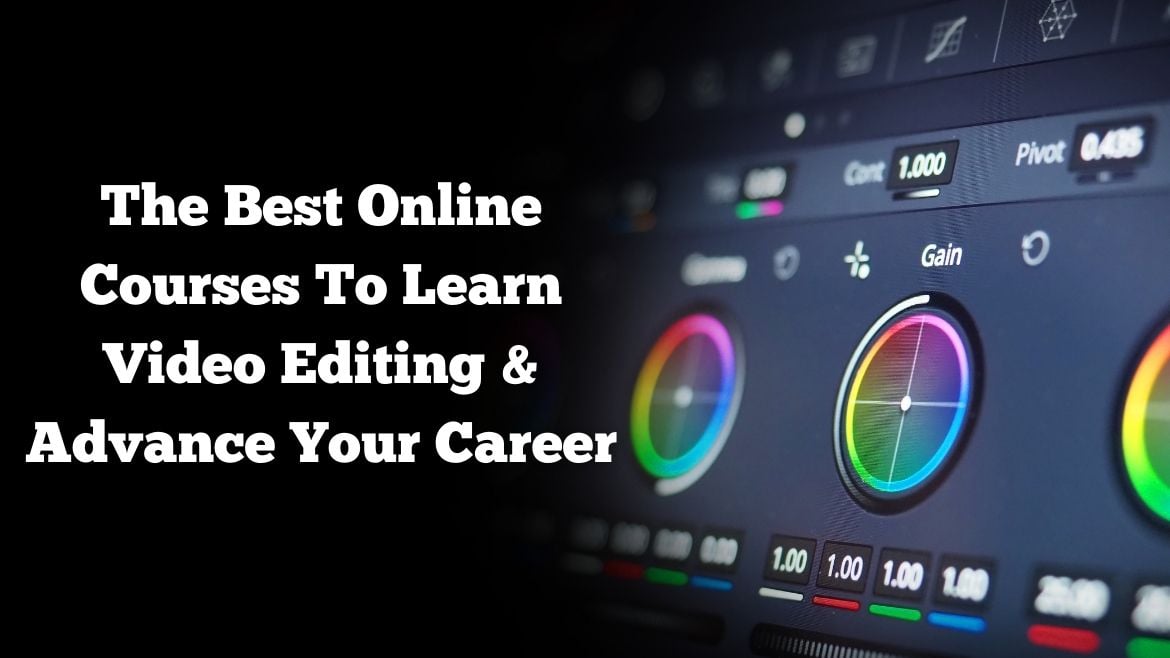 Table of Contents
How to Start a Career in Video Editing
The most common jobs in video editing are:
TV Editor

Film Editor

Video Journalist

Multimedia Producer

Online Video Editor
However, with the rise of social media and online video content, video editors have many other opportunities. For example, you could become a Social Media Manager, a YouTube Channel Manager, an Instructional Designer for eLearning, and many more!
Salaries in Video Editing
Salaries in video editing range from $40,000 to $100,000 per year, depending on experience and position. The median salary for a video editor is $58,210 per year in the US.
Some professional video editors in Hollywood make upwards of $250,000 per year AND receive Golden Globe Awards and Oscars for their work!
Education Options for Video Editing
Becoming a video editing pro could lead to a successful and lucrative career. The industry is growing rapidly, and there is a demand for skilled editors. With the right training, you could be working in this exciting field in no time.
Choosing the right video editing course can be a tough decision, especially if you're a beginner. There are so many options, and it's hard to know which one is right for you.
That's why we're here to help. At FMC Training, we offer courses for students of all skill levels, from beginner to expert. Our courses are designed to give you the skills and knowledge you need to succeed in the industry. And best of all, our courses are taught by experienced professionals passionate about video editing.
Are you a beginner at video editing? Keep on reading to learn about the top 5 video editing software choices available on the market and what courses are available to start learning video editing.
Are you an experienced video editor? Our courses have plenty of advanced content for those who want to brush up on their skills or learn more about advanced techniques.
Top Video Editing Software Packages and Courses
Leading video editing software options available on the market today have their own set of features, so it's important to choose the right one for your needs.
Adobe Premiere Pro Courses
Adobe Premiere Pro is a powerful, customizable non-linear video editor that enables users to edit their videos and films. It offers a wide range of features, including trimming clips, adding transitions and effects, and working with multiple audio and video tracks.
Premiere Pro also supports various input and output formats, making it an ideal tool for collaborating with other editors and post-production professionals.
Premiere Pro can be used for many projects. Its comprehensive feature set makes it particularly well-suited for editing long-form videos, such as feature films or documentaries.
Use Code: BLOG10 At Checkout To Save 10% off our Online Adobe Premiere Pro Courses
If you're looking for a comprehensive and versatile video editing course, Premiere Pro is perfect. It is also a perfect video editor for beginners.
We at FMC offer six different Adobe Premiere Pro courses ranging from 6 hours to 5-8 days to ensure you have the best to choose from. You'll learn how to use Premiere Pro's features to create beautiful and professional-looking videos. We'll start with the basics, such as importing footage and working with timelines. Then we'll move on to more advanced topics, such as adding effects and transitions, working with audio, and creating titles and credits.
Adobe After Effects Courses
Adobe After Effects is a powerful tool for creating professional-looking special effects. It is the industry standard for creating animations and motion design elements. By combining multiple layers of video, images, and text, you can create complex graphics and animation sequences.
After Effects is most commonly used to create complex, high-end visuals. At the same time, it can be used to create simple effects, for example, adding a logo to a video.
Use Code: BLOG10 At Checkout To Save 10% off our Online Adobe After Effects Courses
You will learn how to use After Effects to create stunning visual effects. We offer nine different Adobe After Effects courses at FMC, ranging from 6 hours to 7 days! Beginner courses start with the basics, such as working with layers and adding images. Pro training will move to more advanced topics, such as animating graphics, working with video footage, and creating particle effects.
DaVinci Resolve Software

Courses
DaVinci Resolve is a great video editing software that provides users with a wide range of tools and features, including the ability to edit and composite videos, add special effects, and create custom graphics.
DaVinci Resolve is best known for its powerful color grading that can be used to create beautiful and creative looks for your videos. In addition, the software comes with a wide range of templates and presets that make it easy to get started with your video editing projects.
Whether you're a beginner or a seasoned professional, DaVinci Resolve is an excellent choice for your video editing needs.
Use Code: BLOG10 At Checkout To Save 10% off our Online DaVinci Resolve Software Courses
In our four DaVinci Resolve courses, you'll learn EVERYTHING about this powerful software:
In just eleven days, you will become the master of DaVinci Resolve, so much so that Da Vinci himself would be impressed. Remember, "Learning never exhausts the mind" (Leonardo Da Vinci)!
Final Cut Pro Courses
Apple Final Cut Pro (FCP) is a high-end video editing software. Yet, it is easy to use because it comes with many templates and presets. Final Cut Pro is perfect for beginners as it is very user-friendly. The software is also great for professionals because it offers a wide range of features, including trimming clips, adding transitions and effects, and working with multiple audio and video tracks.
Use Code: BLOG10 At Checkout To Save 10% off our Final Cut Pro Courses
We offer a unique opportunity to prove your expertise in Final Cut Pro by becoming certified in Apple's Final Cut Pro at FMC. We have not one but three different options for Final Cut Pro Certification:
FCP Certified SocialPro

FCP Certified VideoPro

FCP Certified Post-Production Pro
Each level of certification allows students to show off their skills at their required or desired level (and greatly improves your chances of getting that dream job in video editing by showing your minted FCP certificate!).
This exam certifies users wishing to focus on online content and social media. It is ideal for students and professionals looking to get their feet wet in the Final Cut Pro ecosystem. It tests the main features of Final Cut Pro at an introductory-to-intermediate level. It includes questions about integrating iPhone videos into the production process.
You can take this exam right away or consider a live 6-hour prep training taught by an industry expert. If you prefer self-learning to live training, you can order the pre-recorded certification prep course to study at your own pace.
Take this certification exam to showcase your efficiency in producing professional content for film, TV, and advertising. It covers all aspects of Final Cut Pro, from intermediate to advanced. It includes testing your knowledge of importing, editing, and exporting finalized professional-quality videos.
Like in the case with the SocialPro certification, you might want to take a live class or a self-study option to brush up on your skills before taking an exam.

Take this exam to show off your pro-level across the Pro Apps ecosystem! It includes questions about Motion and Compressor and post-production terminology and workflow.
Since the early 2000s, Final Cut Pro has grown a loyal fan base, consisting primarily of video amateurs and independent filmmakers. It's also gaining ground among film and television editors.
Not ready to commit yet?
Why not try our free 45-minute webinar "What's New in Final Cut Pro"? You will learn:
Using Metadata for Batch Renaming

Creating Advanced Smart Collections for Organization

Performing back timed edits

Using Roles and Lanes for Audio
Never stop learning!
In conclusion, if you want to learn video editing, many options are available. The most important thing is to find the right software for your needs and the courses that fit your budget and learning style. Whether it's a hobby or a career, video editing guarantees fun and learning that never stops!
Join our ever-growing Facebook group and ask any video editing questions you might have!