Are you looking for a video editing app to help you create professional-looking videos? There are many different apps available, both free and paid. In this blog post, we will mention the top 5 best free and paid video editing apps, and also provide a brief overview of each app and what it is used for. So whether you are a beginner or an experienced videographer, there is sure to be an app here that meets your needs!
Table of Contents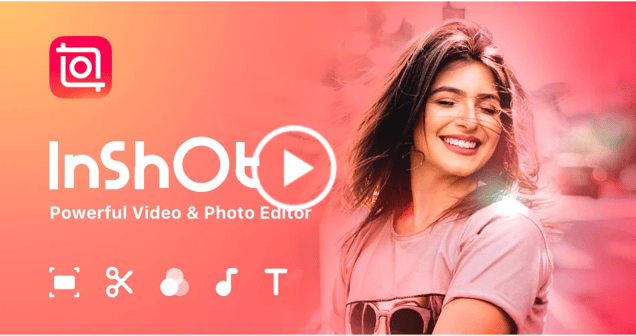 InShot
InShot is the perfect video editing app for creating creative, witty, and engaging videos. With InShot, you can clip and merge videos, apply filters and text, adjust music and speed, and crop your videos to perfection. Plus, with InShot's library of clips, you can create professional-quality intro/outro sequences and transitions in seconds! Whether you're a video editor by trade or just looking to add some flair to your personal videos, InShot is the right app for you.
On the other hand, InShot Pro offers a more complete set of features than the standard version. You get access to additional features for a monthly cost of $3.99, a yearly fee of $14.99 or a one-time purchase of $34.99.
The Pro version includes more transitions, effects, stickers and is ad-free and watermark-free. It's perfect for making professional-looking videos for social media, YouTube, or your website. InShot is simple to use, even if you're not a video editing pro. Just choose a template, add your photos and videos, then choose your music and transitions. Likewise, you can add text, stickers, and filters to make your video look even better. Once you're happy with your creation, export it in HD quality to share with the world.

Splice
With Splice, you can create video edits that are both professional and unique. No matter your level of experience, the app has a variety of templates and effects to choose from. You can also add your own personal touch by importing music or photos. So whether you're making a video for work or for fun, Splice makes it easy and fun!
If you're looking for a video editing app that's packed with features but still easy to use, Splice is a perfect choice. Splice's straightforward interface makes it easy to get started editing your videos. But don't let its simplicity fool you - Splice is a powerful video editor that can handle even the most complex projects.
Splice's advanced features include speed effects, overlays, and 4K exports. And if you ever need help, our friendly support team is always just a click away.
The app is free to download, and the Pro version ($12.49 a month) includes an animated photo feature, music, and captions. With the Pro version, you can choose from a library of songs and animations to create your own custom photo slideshow. Also, you can add text captions to your photos and create custom transitions between slides. The app is easy to use, and the results can be quite impressive. When looking for a way to add some excitement to your photos, the Pro version of this app is definitely worth considering.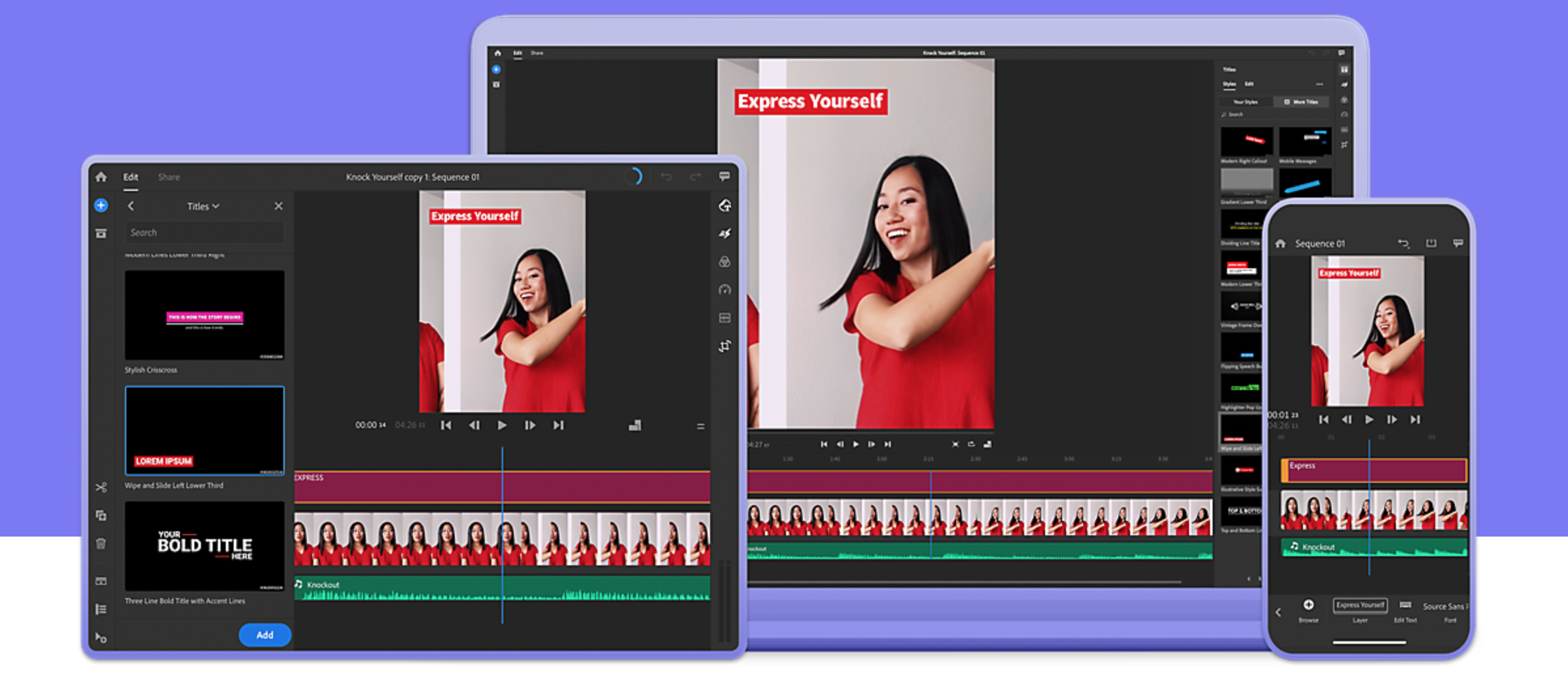 Adobe Premiere Rush
Adobe Premiere Rush is the perfect video editing app for those who want to be creative on the go. With its easy-to-use interface, you can shoot, edit, and share your videos with ease – from your phone to your computer. It's fun, fast, and easy to use – perfect for anyone who wants to make quick, high-quality videos without any fuss. You can easily trim clips, add titles and graphics, adjust audio levels, and more – all from your phone or tablet.
Premiere Rush makes it easy to create videos that will unquestionably stand out from the crowd with its simple desktop and mobile tools for audio, motion graphics, and more. Plus, when you're ready to share your masterpiece with the world, you can do so directly from the app with just a few taps.
Adobe's Premiere Rush video editing app is a powerful tool for creating engaging, professional-quality videos. Whether you're working on a project for work or fun, Premiere Rush has the flexibility to help you get the job done. And because it's from Adobe, you can be confident that your content will look great on any screen. So if you're ready to take your video editing to the next level, check out Premiere Rush.
Adobe offers two different versions of its video editing software. The starter version is free and includes unlimited exports, easy editing and effects, and the ability to customize animated titles. However, users who upgrade to the Creative Cloud Express version for $9.99 per month will access all Premiere Rush premium features and content, including sync across mobile and desktop devices, 100GB of cloud storage, and more. For those who are serious about video editing, the Creative Cloud Express version is worth the investment.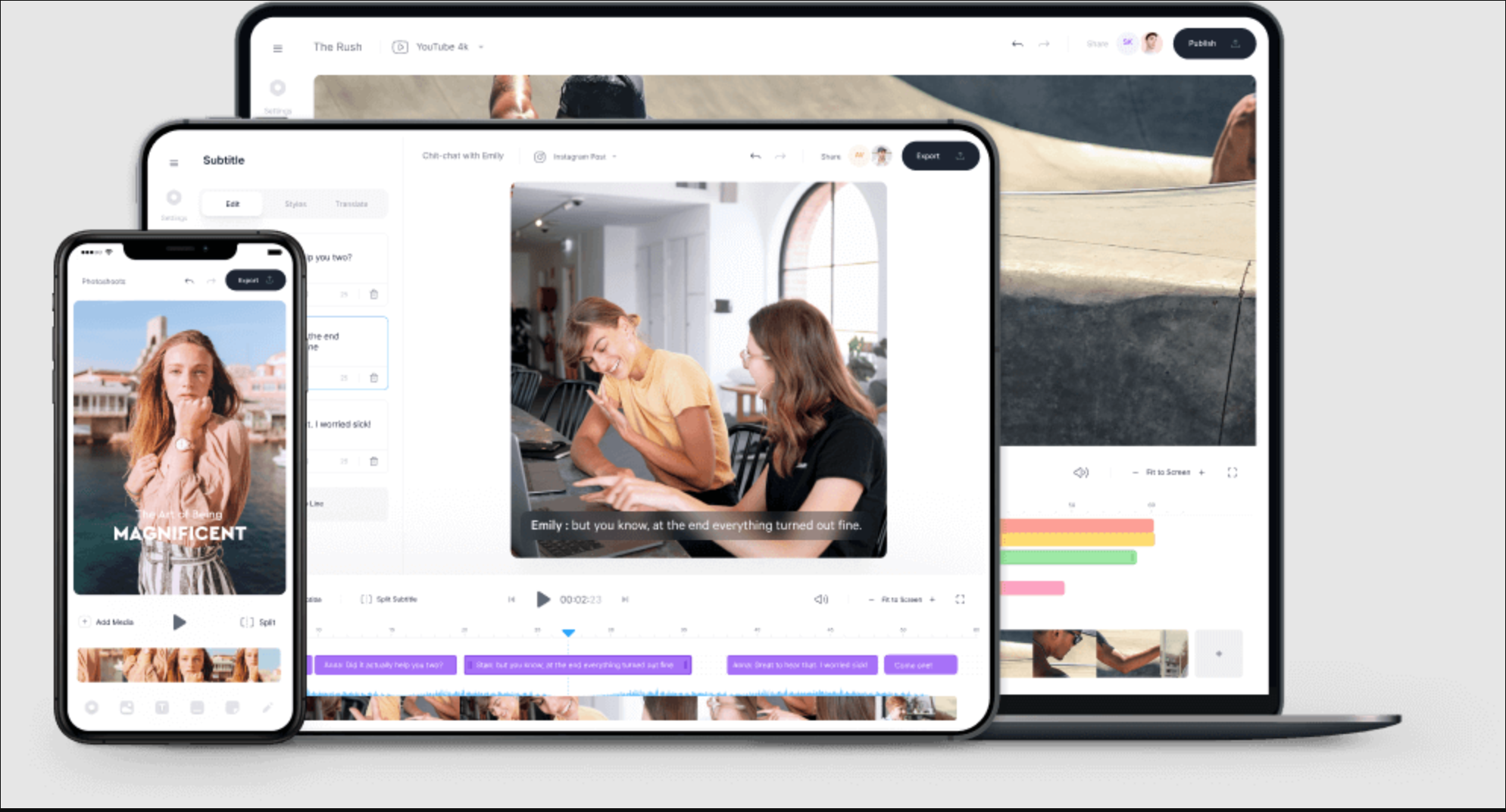 VEED
When looking for a powerful piece of software that can help you add subtitles to your videos, translate them, transcribe audio files, add visual effects, and create engaging content that will attract more views, likes, and followers, then Veed is the perfect solution for you! With its easy-to-use interface and multiple features, VEED makes it easy to create professional-looking videos that get results.
With Veed, you can easily add subtitles to your videos in any language, allowing you to reach a wider audience. You can translate your videos into multiple languages, making them accessible to viewers worldwide. In addition, Veed provides transcription services that allow you to create text-based versions of your audio files. This is extremely useful for creating captioned videos or adding closed captions to existing videos. In addition, VEED also offers a range of visual effects that can help to make your video more engaging and appealing. These effects include filters, motion graphics, and text animations that can be added with just a few clicks.
The VEED social media video app is the perfect way to make your videos look amazing and connect with your friends and followers. The free version has features you need to make great videos, and the Pro version, which is $24.30 or $288/year, offers even more powerful tools for creating professional-quality videos.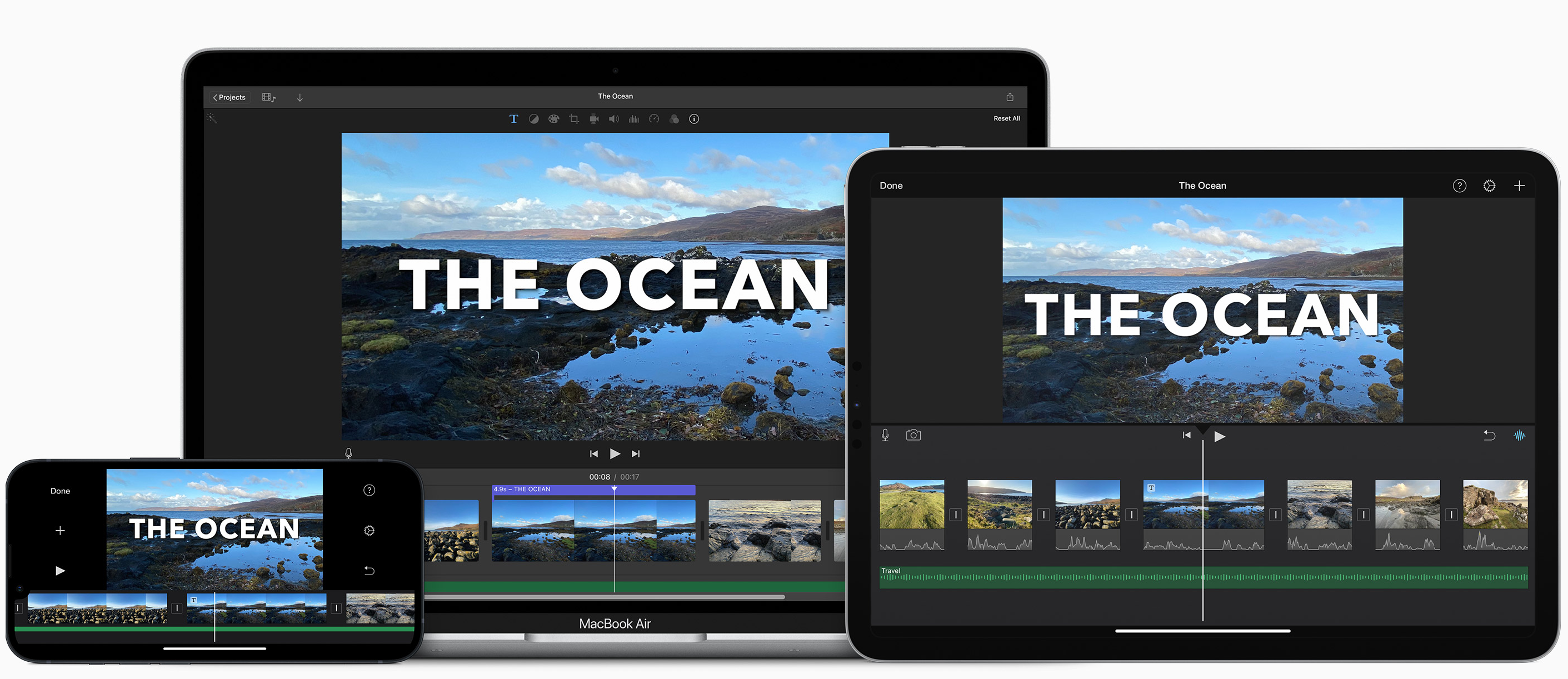 iMovie
iMovie is the perfect video editing app for creating content that will make your brand stand out on social media. With its user-friendly interface, you can easily add voice-overs or music to your videos and upload them to iCloud. Likewise, you can turn your photos and videos into polished movies in just a few taps. Add themes, trailers, and titles to give your movie a perfect look. Then share it with the world on YouTube, Facebook, Instagram, or iCloud.
This app comes pre-installed on all Apple devices and is absolutely free to use. So don't wait any longer; download iMovie and start creating amazing video content for your brand today!
The Bottom Line
Editing your video doesn't have to be hard. In fact, with the help of the right apps, it can be downright easy. With so many different editing apps out there, you're sure to find one that meets your needs and helps you create the perfect video for your business or personal use.
Whether you want to add music, subtitles, or simply cut out unwanted footage, there's an app that can help you get the job done. And best of all, many of these apps are available for free. So what are you waiting for? Start exploring the world of video editing today.
Check out Final Cut Pro and Adobe Premiere Pro if you want to expand into the professional world of video editing.
Join our ever-growing Facebook group and ask any questions you might have about editing videos!