As social media grows increasingly popular, it's important to make sure your pictures and videos look their best. This is especially true if you're using them for marketing purposes. This blog post will discuss the 5 best social media editing apps for pictures and videos. We'll also talk about the importance of making your photos and videos look good and how to use these apps to achieve that goal.
Table of Contents
Top 5 Free and Paid Apps for Editing Your Photos

Since social media is rising, more and more people are looking for ways to edit their photos to make them look their best. Fortunately, there are different apps available that can help with this. These apps provide a range of basic editing features, such as the ability to crop, rotate, and add filters. For those looking for more advanced features, there are also a number of paid apps available. These apps offer a wide range of unique tools for detailed photo editing, making them ideal for those who are serious about photography.
Here are the top five: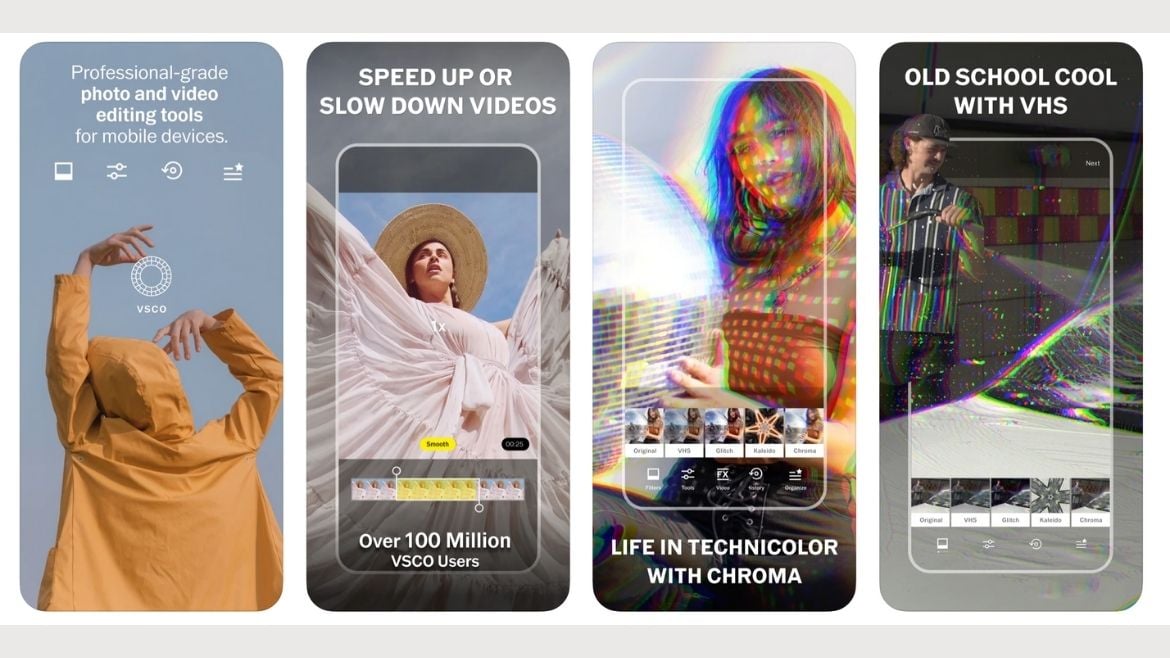 VSCO Cam

Minimalism is now very popular on social media, and with VSCO Cam, it's easy to jump on the bandwagon. This app has no ads, follower counts, or comments, but it does have 20 free photo presets and standard editing tools. Edit your photos within the app and save them to your Camera Roll to post on Instagram.

VSCO Cam is the premier app for high-quality mobile photography. With VSCO Cam's advanced photo editing tools, you can fine-tune every aspect of your photos to create stunning images that rival those taken with a DSLR camera. And with VSCO Membership, which is $20 a year, you'll get access to over 200 photo presets and tips and tricks from the VSCO team to help you take your photography to the next level. So whether you're a beginner or a seasoned pro, VSCO Cam is the app for you.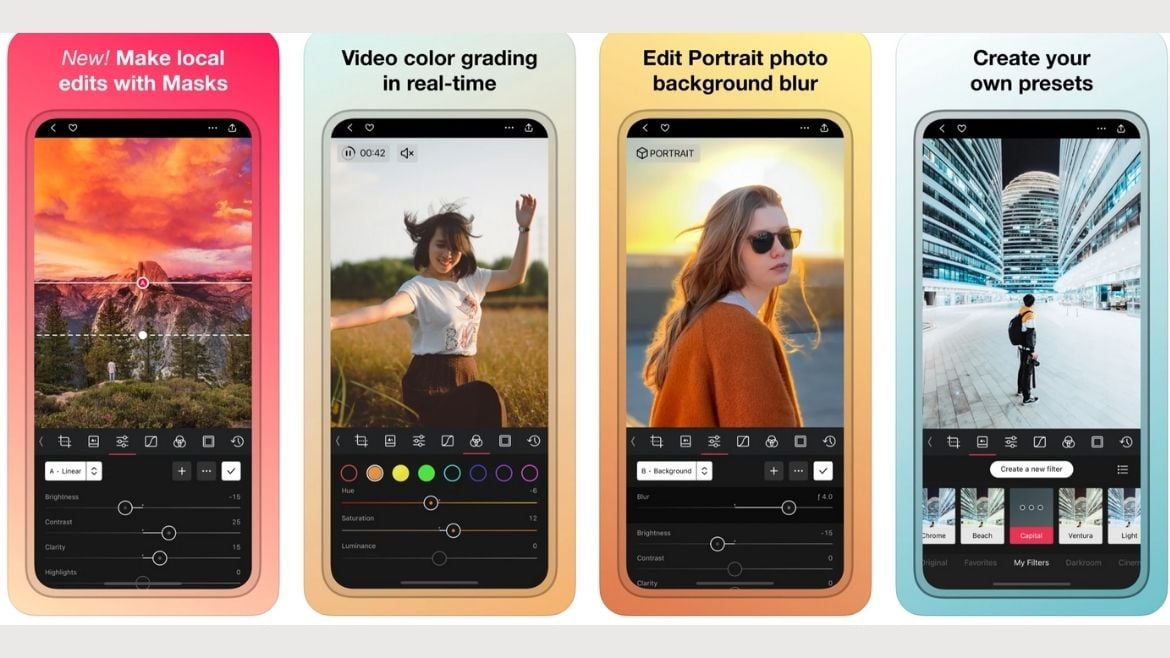 Darkroom

Making memories shouldn't be a dark art. With Darkroom, it's easy to take great photos and keep them organized - all with a few taps. The powerful editing tools let you customize your pics to perfection, and with 12 free filters to choose from, you'll always be able to find the perfect look. Additionally, the exclusive Favorite and Delete modes make it easy to keep your Camera Roll clutter-free.
Moreover, you can get the perfect photo every time with Darkroom Plus! With the premium filters and curves tool, you can easily adjust your photos to perfection. And the flag and reject feature makes it easy to get rid of any unwanted objects or people in your photos. With the 4K video editing capabilities, you can create stunning videos that will amaze your friends and family. Join the millions of people who have made Darkroom their go-to photo app and try it now.

Darkroom has everything you need to edit photos like a pro. With pricing set at just $3.99 per month or $19.99 per year, a subscription provides access to all of our filters and tools, plus any new features added later. And for those who want a one-time purchase option, we also offer a $49.99 option.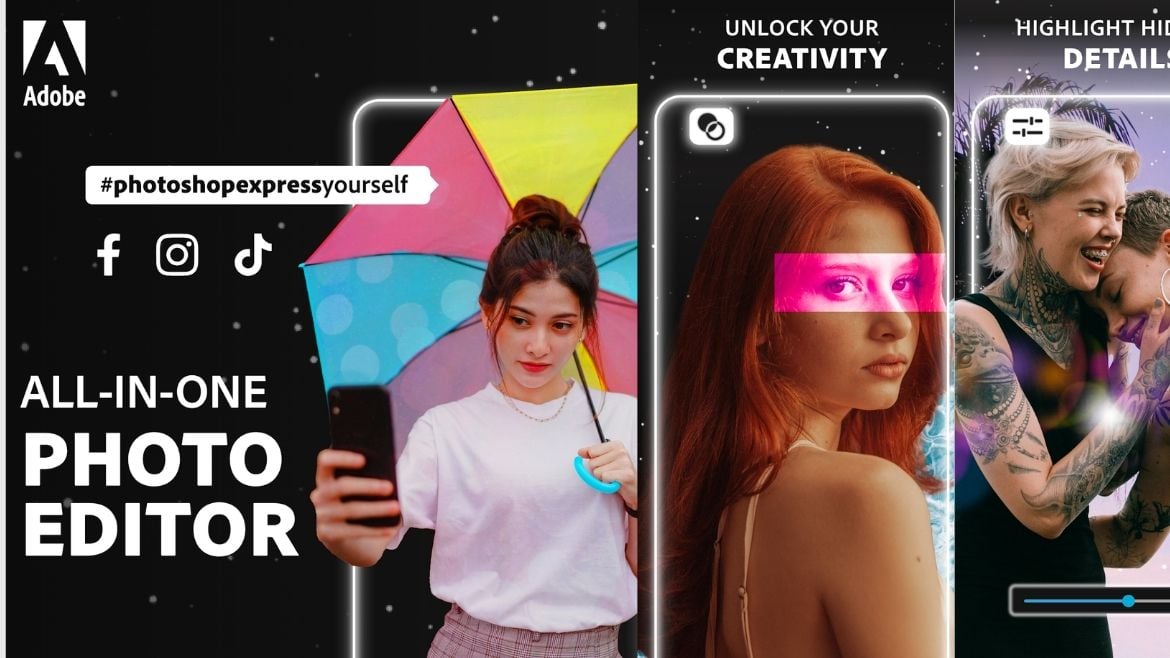 Photoshop Express

With Photoshop Express, you can easily enhance and retouch your photos right from your mobile device! This powerful app was designed for advanced users and beginners alike, with tons of features and options to choose from. Add fun stickers, themes, and overlays to your photos for a touch of personality, or use the app's powerful editing tools to make subtle adjustments and enhancements. Whether you're a photography enthusiast or just looking to spruce up your social media posts, Photoshop Express is the perfect photo editor for you!

In the same way, Photoshop Express is the perfect photo editing app for quick and easy fixes. With its smart healing tool, you can quickly erase unwanted blemishes or objects from your photos. Plus, with its wide range of filters and adjustments, you can customize your photos to perfection. So go ahead and snap away – Photoshop Express has you covered!

For just $4.99, you can unlock the full potential of this powerful software. And if you need a creative cloud account to get the most out of it, Adobe Photoshop Express pricing is just $9.99 per month. So don't wait any longer, upgrade your app today and start creating stunning images that will wow your friends and family.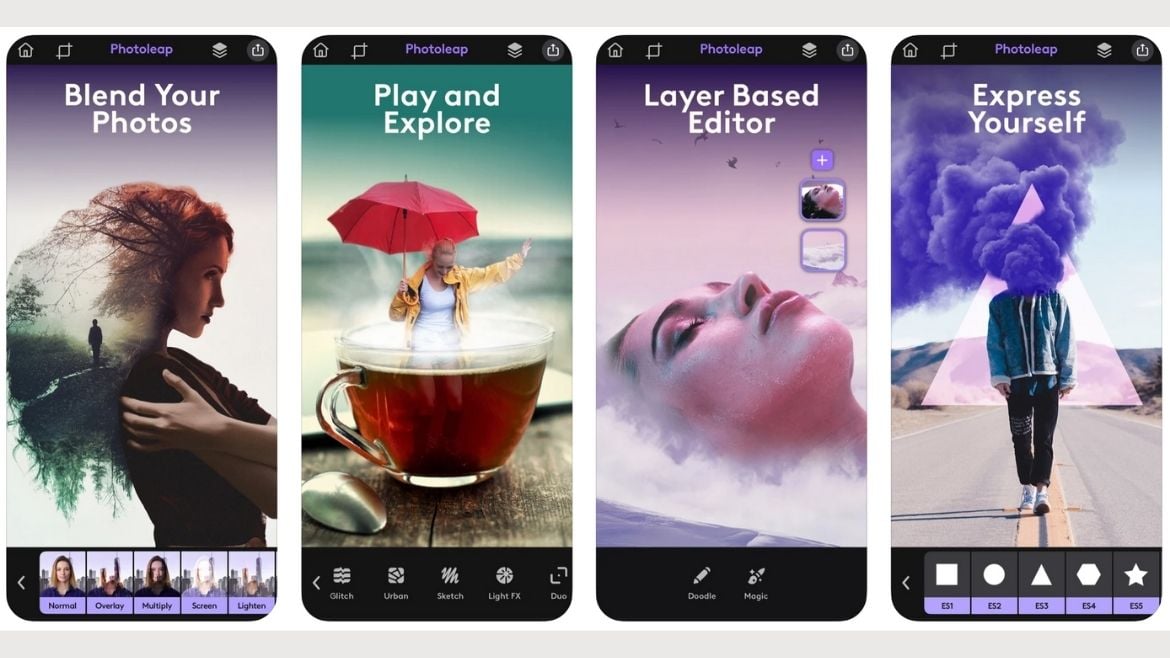 Photoleap by Lightricks

Are you looking to take your photos to the next level? Meet Photoleap by Lightricks the app that makes editing photos fun and easy.

With Photoleap, you can quickly and easily add artistic flair to your photos with the Quickart function. Just select a template and watch as your photo is transformed into a work of art. Or, if you want even more control, you can use the readymade graphics and standard photo editing tools to create something truly unique.

With Photoleap Pro, you get access to the complete art and graphics library of Lightricks. You can have Photoleap unlimited access for 37.99 With this premium subscription, you'll be able to create beautiful photos and graphics with ease. Plus, you'll have access to exclusive tutorials and templates that will help you take your creations to the next level. So don't wait any longer; sign up for Photoleap Pro today!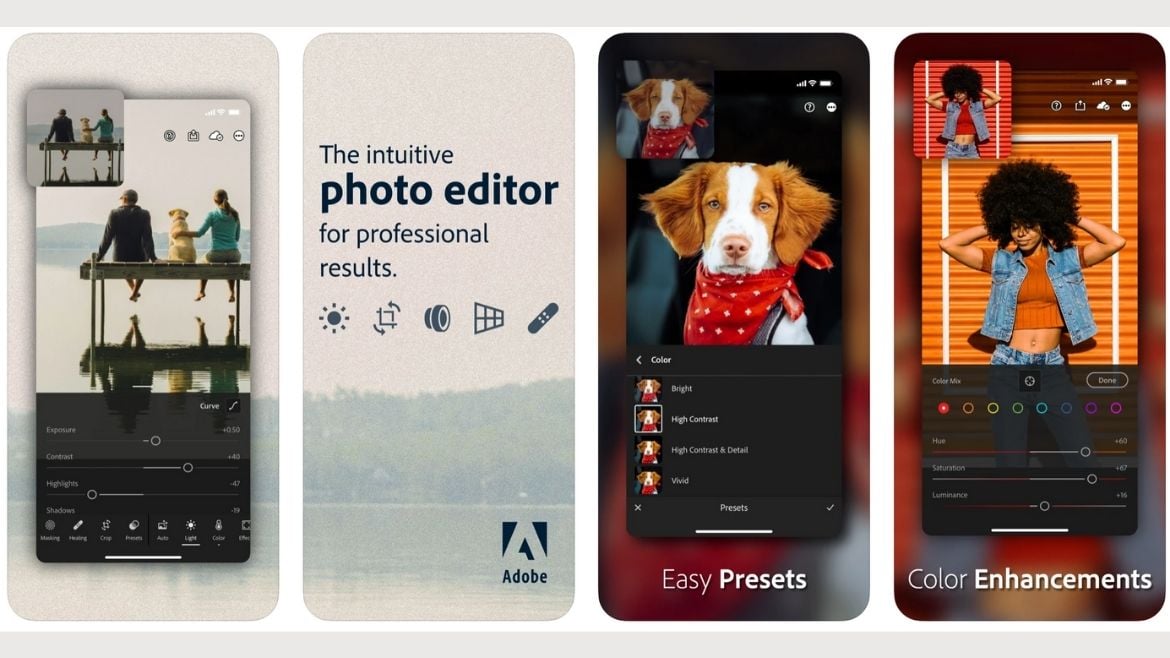 Adobe Lightroom For Mobile

Adobe Photoshop Lightroom is the perfect tool for editing and enhancing your mobile photos. With its powerful editing tools and easy-to-use interface, you can quickly turn your snapshots into stunning images.

Adobe Lightroom for Mobile is the perfect photo editing app for busy photographers on the go. It's easy to use yet packed with powerful features that will help you create stunning photos. With Lightroom for Mobile, you can quickly and easily adjust exposure, brightness, contrast, saturation, and more. You can also add creative filters and text overlays to your photos. Plus, you can easily share your photos with friends and family on social media.

Lightroom is a photo editing software that can be used on both mobile apps and computers. The free versions of each have limitations, but if you want all the features, then it's best to purchase an Adobe Photography Plan for $9-$12 per month (depending upon which plan length suits your needs).

With Lightroom, you can quickly and easily make your photos look their best. Whether you're a professional photographer or a casual snapshot taker, Lightroom has the tools you need to make your photos look amazing.

Give These Apps a Try and Give Your Photos a Unique Boost!

When it comes to creating visual content for social media that looks great and stands out, using a good editing app is essential. These five apps are some of the best options available, and each one offers unique features that can help you create stunning photos. So download one or more of these apps and start creating amazing social media content today! So whatever your needs, there's an app here for you.
You can also learn how to edit photos with Adobe Photoshop if you want to expand into the professional world of video editing.
Join our ever-growing Facebook group and ask any questions you might have about editing photos!