Whether you are creating short-form videos for yourself or your client, there are a few things to keep in mind to create impactful video content for social media on your iPhone. Read this article and learn more about how to put video clips together on iPhone!
Instructor Steve Martin, from Ripple Training, covers the most useful tips for editing content for social media in his Final Cut Pro Summit session, Tips for Editing Video for Social Media.
Read on to learn how Steve captures content, edits rough cuts using his iPhone, and finishes the final video in Final Cut Pro! See Steve's full session in the Final Cut Pro Summit Bundle available to purchase here.
Here are 4 top tips to optimize your video content for social media:
Shorter is Better: With so much content on social media feeds, you have only about 20 seconds to capture your viewer's attention. Try to keep your videos short between the 30-45 second mark.


Put Good Stuff in The Beginning: Make sure to drive your point very quickly while you have your viewer's attention.


Be a Storyteller: Make content that resonates and the best way to do that is with a story. The 3 key elements of a story include set-up, conflict, resolution.


Keep it Personal: Form a connection with your viewers. The reason why influencers do so well is that they have built a sort of trust/relationship with their audience. It's so much easier to trust a review from a person you find yourself relating to versus a corporation or large business.
Recommended Mobile Gear:
Keep things simple when creating stories. You don't always need to bring a mirrorless camera with you to capture video. You could create impactful stories directly on your phone any time and anywhere. The gear that Steve likes to bring with him include:
iPhone - The camera quality is great as is! Now with the release of the iPhone 13, we could expect to create a high-quality, cinematic video using the powerful Pro camera system. The most powerful tool at your disposal is already in your pocket.


GoPro Hero 9 - Rather capture video on another device? Try the super portable GoPro Hero 9 which boasts a 5K video 20MP streaming camera with a waterproof design.


DJI Osmo - Take smooth action shots with DJI's built-in gimbal and tripod. This gimbal is great to use for lightweight mobile devices such as the GoPro and iPhone.
Caption: Steve Martin shows off his GoPro Hero 9 to Final Cut Pro Summit attendees
Caption: Steve Martin holding his DJI Osmo Gimbal & Tripod
Stay Organized and Treat Your Phone as a Professional Camera
Organization is key! You could create albums for specific shoots. You could also scroll through your video album to select your favorite clips from the shoot. Tap on the "heart icon" to save your favorites.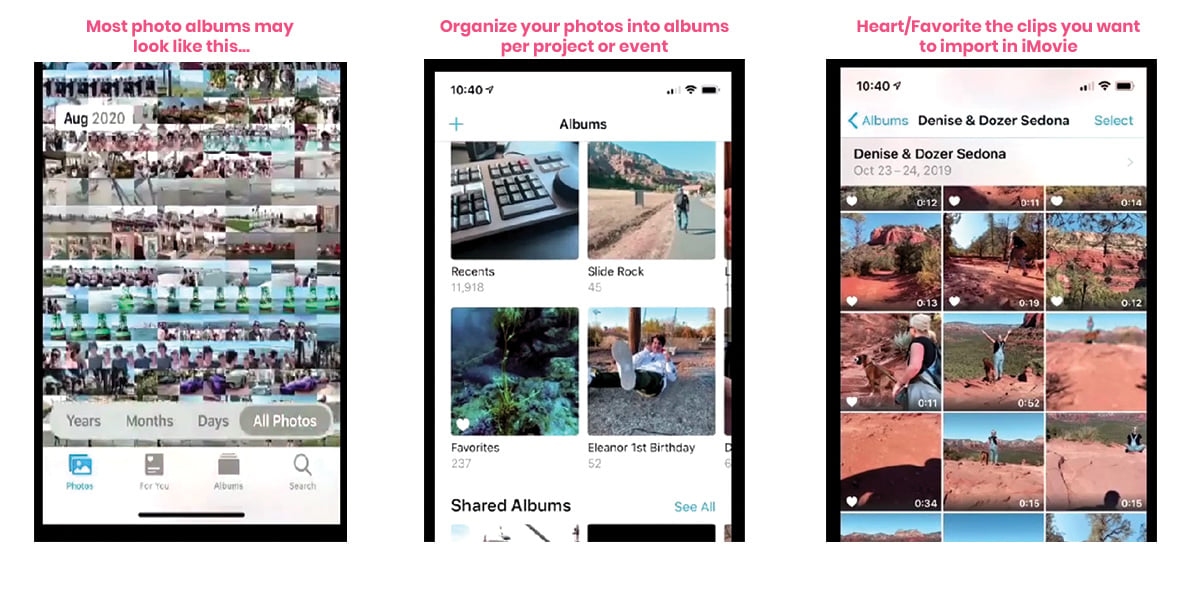 Caption: Steve Martin sharing his photo album organization on his iPhone
Use the iMovie App to Create a Rough Cut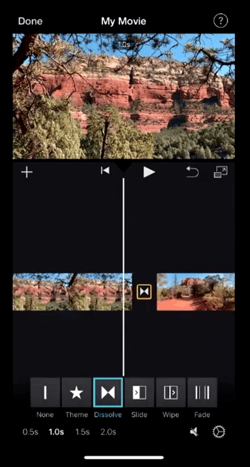 iMovie is really simple to use to put clips together. With the simple interface, Steve recommends using iMovie to edit your rough cuts directly on your phone for a swift and easy workflow.
To start, look for the "Select" album with all your favorite clips and start selecting the clips in the order you'd like them to appear within the iMovie app. Tap Create movie to see your clips in order. While iMovie automatically creates dissolve transitions for each clip, you could edit and remove these transitions to your liking.
Similar to Final Cut Pro, you could change the order of clips and pinch the screen to zoom into the timeline.
Steve also emphasizes that music is the most important part of your video. Transitions and music are the keys to getting users to "Stop the Scroll." Luckily, iMovie offers a bunch of royalty-free tracks in-app.
Click on Audio and under the Soundtracks section you could find a bunch of royalty-fee tracks to use in your video. Tap on the (+) to add it to your timeline. Once you add the audio, iMovie will trim it for you to make the audio automatically fit the length of the video.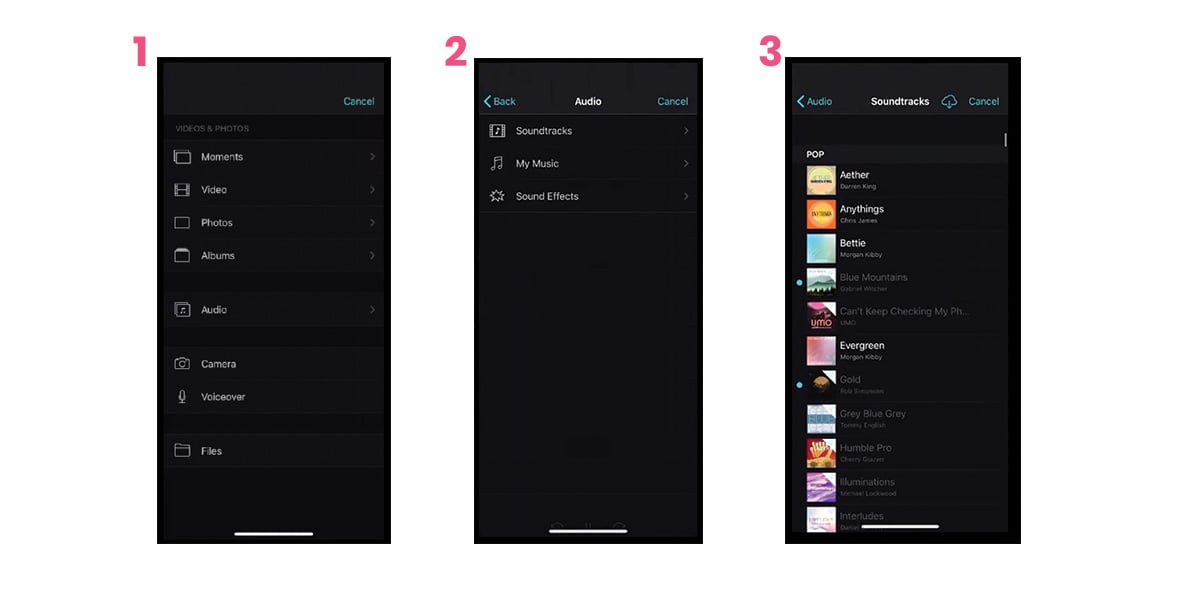 Caption: Steve Martin showing the Royalty-free music library in iMovie
Additionally, iMovie automatically adjusts the volume of your audio if there is sound already in your original video clip. You could adjust the sound levels per clip to your liking.
If you have Apple Music installed, you could also make playlists and add your stock music there to import into iMovie.
After you have your rough draft, you're ready to bring your video into your editing software of choice. You could airdrop the video you created on your iPhone to open the clip in Final Cut Pro and finish editing on your computer.
Using Final Cut Pro to Finish Your Edit
Start your video project by creating a New Library. Select File, Import iMovie iOS Project.
You'll notice that the imported clips will have an automatically generated file name. You could organize your clips by selecting all your video clips, click on the info tab of the inspector, and select "Apply a custom date, Clip/Date Timestamp." This feature will rename your clips with the dates they were shot and the timecode they are being used. This will minimize the time you spend on searching for clips so you could focus on the video edit.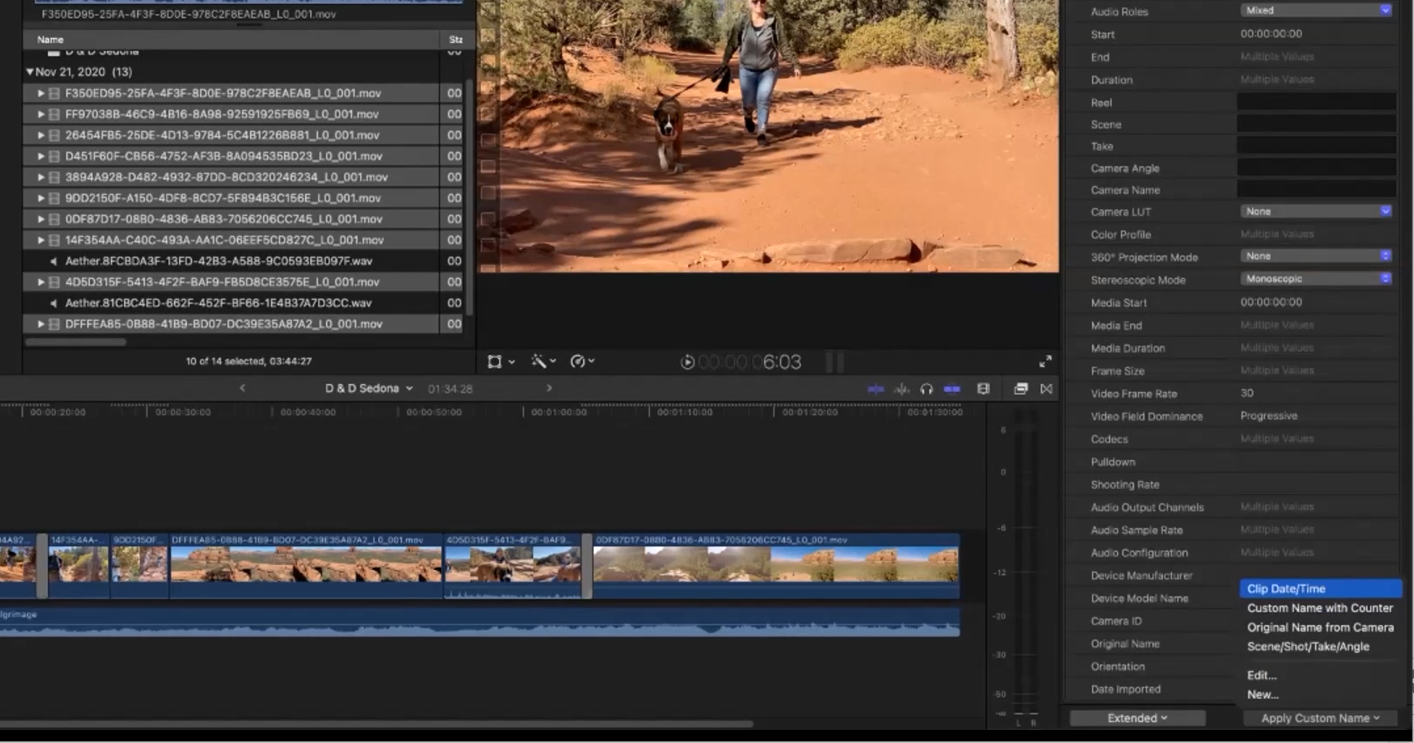 Caption: Steve Martin renaming his imported project files from iMovie using the Clip Date/Time Feature in the Inspector Tab
You could also organize the clips in your timeline by assigning roles to your clips! You could mark certain audio clips as music, boom, soundtrack, effects, etc.
Edit Your Audio Clips in Final Cut Pro
As we mentioned above, audio is the most important aspect of your video for social media. Sometimes if we are distracted while scrolling through a social media feed, audio helps grab people's attention first. Make sure to clean up and optimize your audio.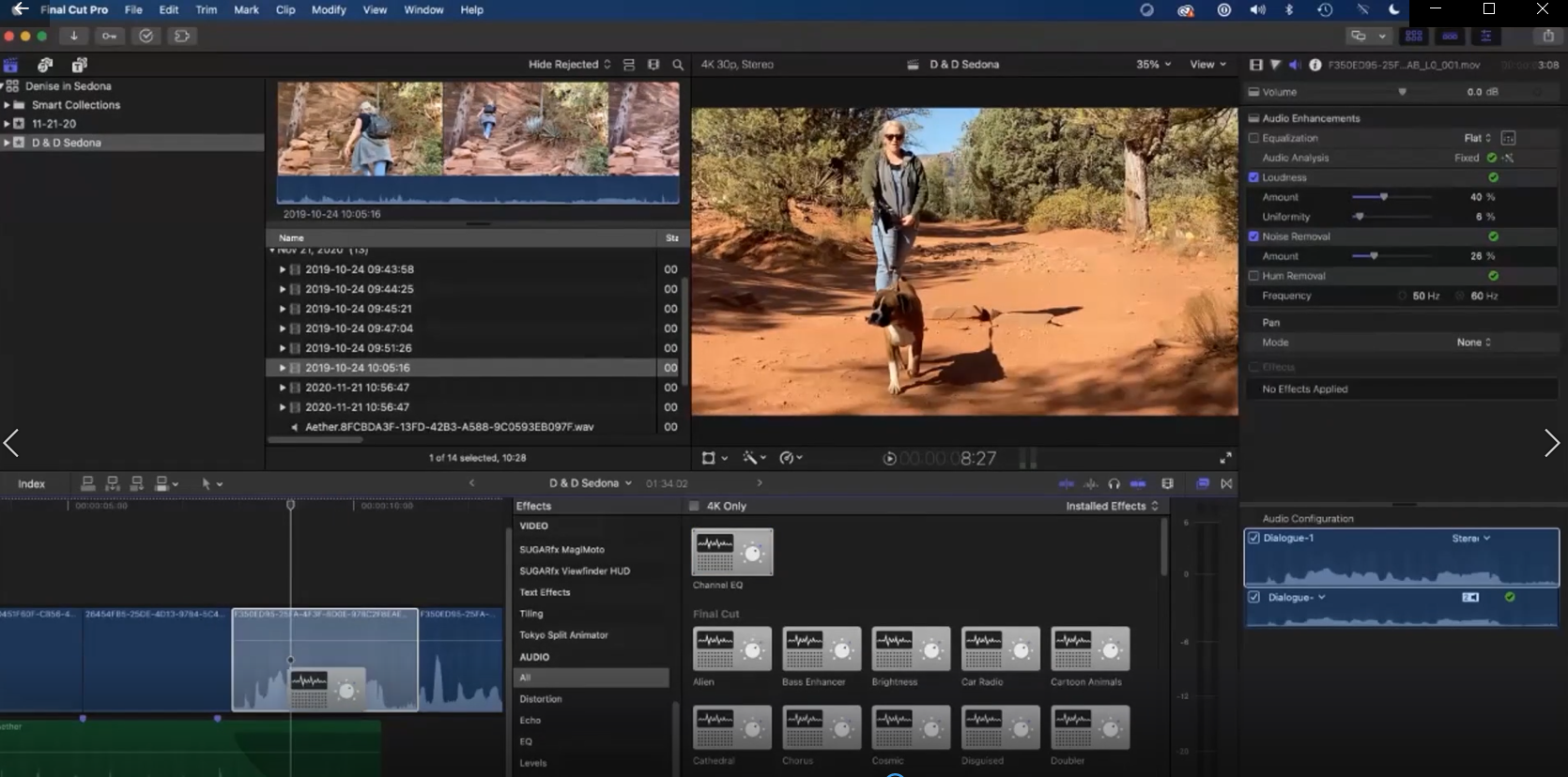 Caption: Steve Martin adjusting the audio in his video project by using Audio Enhancements.
Steve recommends using the Audio Inspector to analyze the audio clips. Use the Magic Wand and Final Cut Pro will automatically fix issues for you using smart technology. You could also review what potential issues the audio clip may have. Make your edits using the Audio Enhancements.
For example, to remove any background noise, you may use Final Cut Pro's Noise Removal Tool to clean up the audio.
Adjust the loudness of your audio clips. You would want to keep your audio at consistent levels to prevent overmodulation, which causes audio to become distorted and unclear. Make sure your audio averages at -12dB with an occasional peak at -6dB.
Additionally, to sync audio to your video clips, use markers to "Mark" the down beats of the music. Once you make visible notations of those audio dips, you could shorten or lengthen the video clips to your liking. Use (T) to trim clips to match the beats.
Spice Up Your Visuals with Final Cut Pro
Now that we cleaned up the audio in your video clip, it's time to edit the visuals and create a captivating video.
You could use the Slip tool to change the in and out points of your video clips. Press (T) to move your video clip without affecting or moving other clips in the timeline. This is super useful especially when editing video imported from iMovie since the app is not always so precise.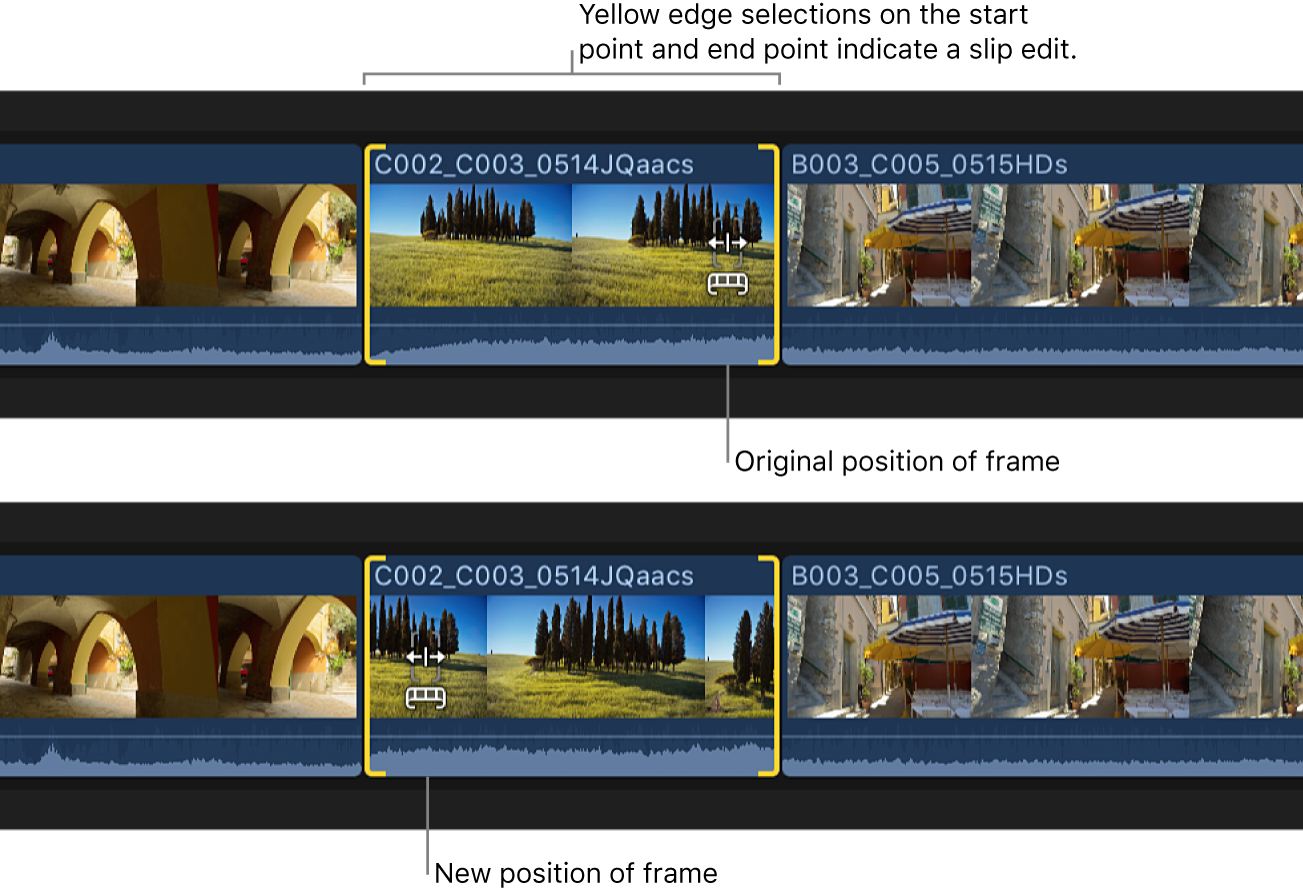 You could also use the Range Tool to remove unnecessary clips and shorten long video clips without having to adjust the whole timeline. You can adjust the range selection start and endpoints by dragging either side of your selection.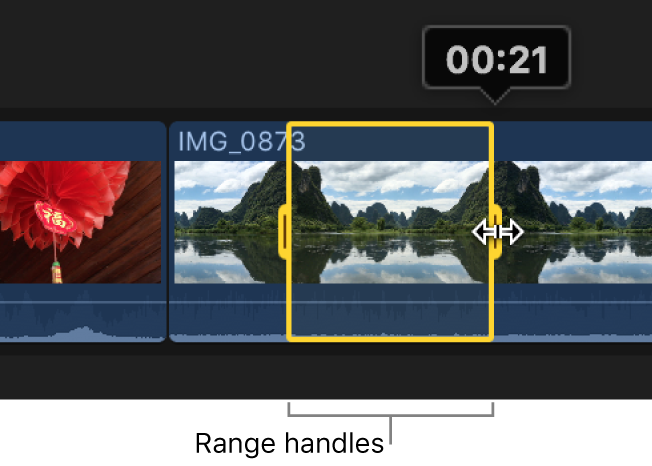 Once you have your clips in order, it's time to add transitions to adjust the pacing of your video. This will keep people's attention while they are viewing your post. A few video transitions you could use include cross dissolves, fades, and wipes. Ripple Training also have their own selection of custom made transition plug-ins!
Optimize Your Video for Multiple Formats
Final Cut Pro makes it easy to resize your video for multiple formats. While horizontal formats are fine for Facebook and Twitter, you may need to resize when posting on Instagram. For Instagram, you may want a vertical video for reels or you may want a square video if you are posting directly to your Instagram feed.
To resize your video you could right-click on your video project. Select Duplicate the project, rename your project and adjust the video constraints for square format (1080x1080).
Choose Modify and Smart Conform. Final Cut Pro analyzes the content of the selected clips and then intelligently reframes each clip. This includes optimizing video with a "Center Crop," which shifts your video from left to right to keep the focus in the center of the frame. This is ideal for square formats!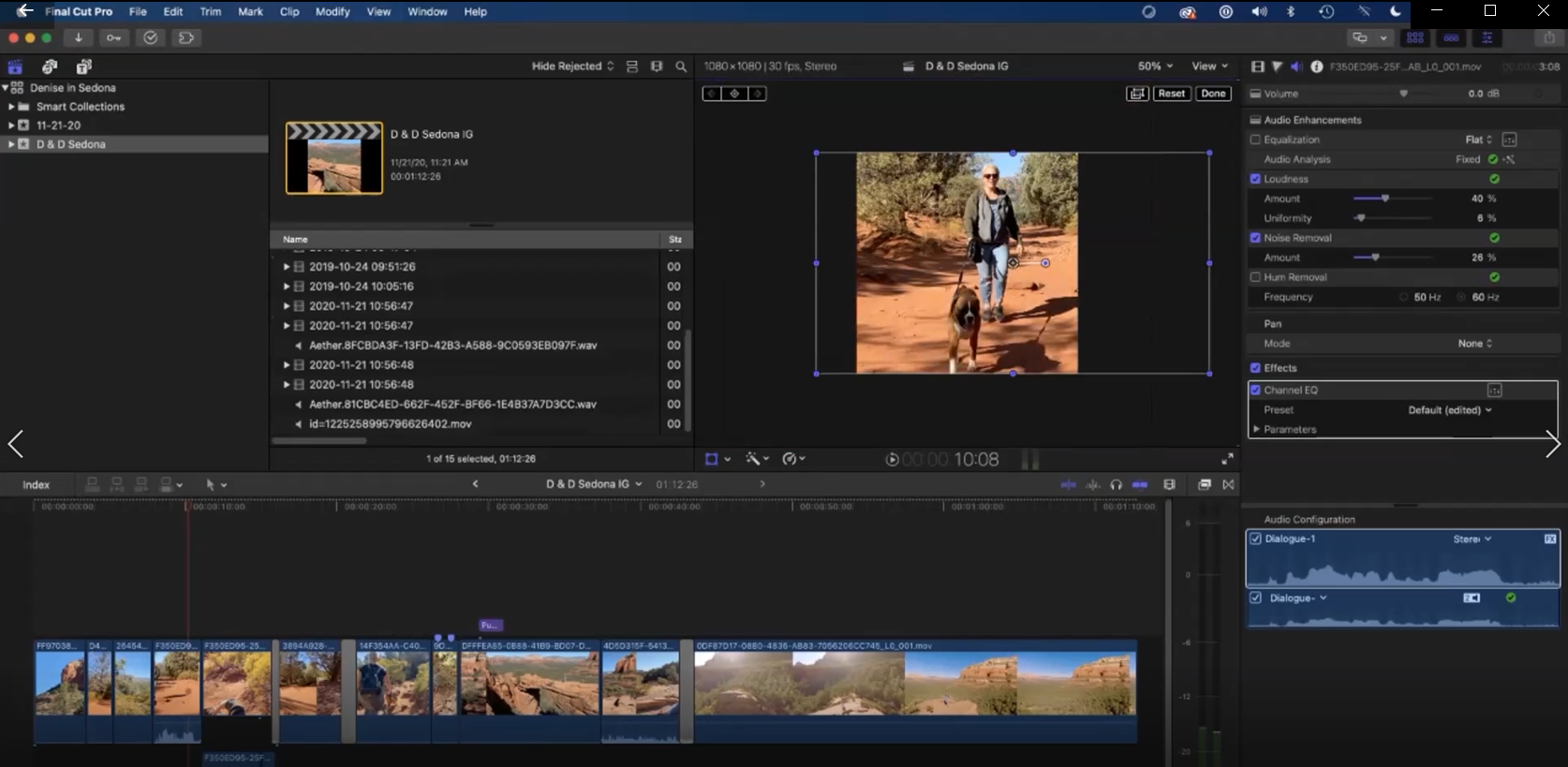 Caption: Steve Martin adjusting his video project for square format in Final Cut Pro using Smart Confirm. The outline is the original video, in which smart technology moves side to side to keep the central focus in frame.
Ready to create your next social media masterpiece? Tag @fmc_conferences & @fcpsummit to share your videos.
Are you looking to learn final cut pro? Each one of our Final Cut Pro courses has been designed to take you from beginner to pro in no time!
For FREE, live training, make sure to register for the upcoming Final Cut Pro Global Summit at fcpglobalsummit.com.
Subscribe to our YouTube channel for more pro tips!
Join our Facebook group to be a part of a growing community in the digital world!