Videos are a powerful method of communication. Whether you are trying to tell a story, educate audiences, or simply entertain, videos help drive the message across to anyone around the world. Depending on how complex the video is, sometimes you need a full team to shoot the video, create a script, and plan the production.
Video Art Directors are responsible for planning, shooting, and editing video content. To become one, you need to have a strong understanding of video production techniques and be able to work with a team of creatives to produce high-quality videos. If you are a creative and technical individual passionate about video production, this career may be perfect for you!
This blog will explore what it takes to be a Video Art Director. We will discuss the skills needed for success, the different types of videos that you could end up working on, salary expectations, and finally, the courses available to start a career in Video Art Directing.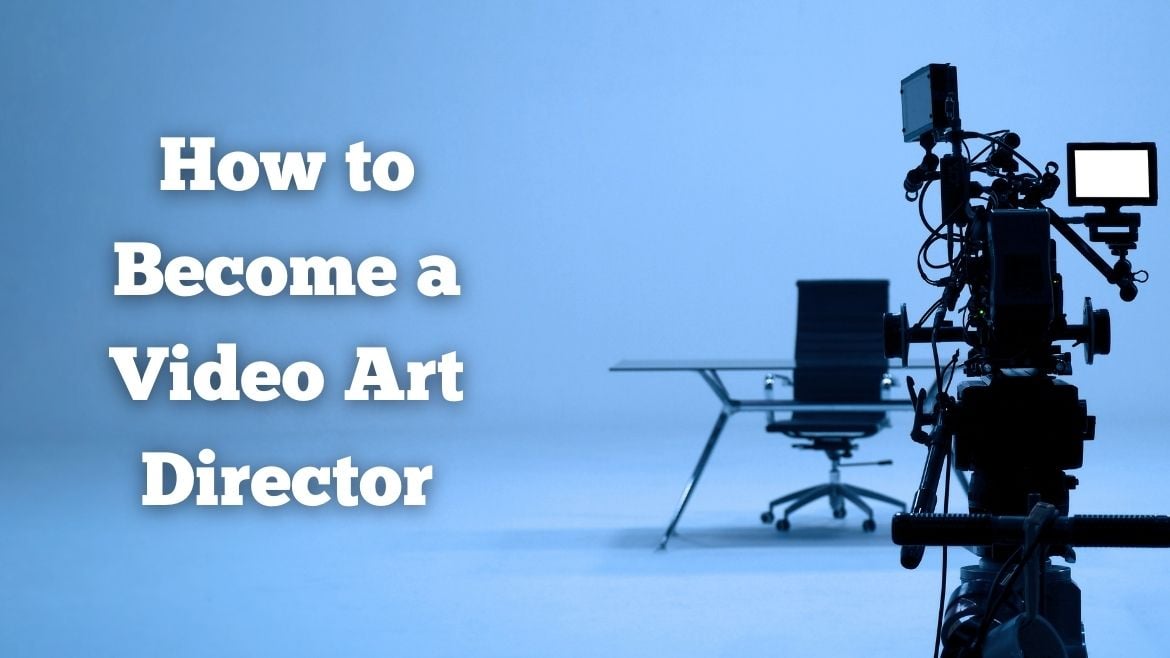 Table of Contents
Most Important Video Art Director Responsibilities
Let's Start with a Real Job Description
There are many responsibilities of a Video Art Director that we will discuss in this blog post, but first, let's look at a typical job description for a Video Art Director. For example, this one posted for a Senior Art Director at Amazon Web Services in Seattle on Indeed.com, a leading job site.
This "dream job" description begins with: "As a Video Art Director on the Amazon Web Services (AWS) Marketing team, you will lead and drive the creative vision for a wide variety of video projects. You are a strategic thinker who can see the big picture and solve problems creatively and with tenacity."
It lists a plethora of responsibilities, such as:
creating engaging video content that tells stories;
developing video content;
writing and presenting scripts;
collaborating with designers, writers, producers, and marketing managers;
integrating different technologies and platforms;
"visual storytelling";
effective communication, organizational and problem-solving skills;
business understanding;
time management,
and many more!
Creating and Directing a Team
Art Directors are in charge of hiring and directing a team of assistant directors, set designers, and others working in collaboration.
This team should be able to make quick and confident judgments about the value of their work. They must stay within set budget limitations and stick to established timelines.
Creating and Directing a Vision
Designers collaborate with the director, production designer, set decorator, and others to contribute to the overall vision required for a brand identity or a target audience.
Video Art Directors translate the script into a shooting plan and storyboard to guide the camera crew throughout production. They are in charge of the set's overall quality control and must keep track of all important locations involved in each scene.

Types of Videos
There are many different types of videos that you could end up working on:
commercials
music videos
corporate videos
educational videos
and more
No matter what type of video you are working on, your goal will be to produce visually appealing content that tells a story that motivates your target audience.
What Does an Art Director do in Adverts?
Advertising art directors are responsible for an advertising campaign's overall look and feel. They work with a team of creatives, such as copywriters, illustrators, and photographers, to develop concepts aligned with the client's objectives.
They also oversee the production process from start to finish to ensure that everything stays on track and within budget.
What Does an Art Director do in Music Video?
Music video art directors are in charge of the video's visual appearance and feel in production. They manage the entire production process from start to finish, taking care of the schedule and budget. They collaborate with other creatives, such as copywriters, creators, and videographers.
What Does an Art Director do in Fashion?
Fashion art directors are in charge of the overall aesthetic of a fashion shoot or presentation. They will also take part in creating the overall lookbook and making sure everything stays on brand. Their responsibilities include collaborating with other creatives, such as stylists, makeup artists, and hairstylists, to develop ideas that match the client's goals.
What Does an Art Director do in the Entertainment Industry?
Art directors in the entertainment industry are tasked with creating the visual appearance and feel of a movie, TV show, or stage production. They collaborate with a team of creatives, such as costume designers, set designers, and lighting technicians, and manage the entire production process from start to finish.

Becoming a Video Art Director
Degree Requirements
Most video art directors have bachelor's degrees in advertising, marketing, communications, or related fields. Many also have experience working in whatever industry they wish to become an art director.
For example, the real job posting we mentioned at the beginning of this article requires a "Bachelor's degree in Film, Communication, Advertising, or a related field."
Video Art Directors' Salaries
The average salary for a Video Art Director is $85,000 per year. However, salaries can range from $40,000 to $200,000 per year, depending on experience and location. New York City and Los Angeles are two of the highest paying cities for video art directors.
Eight Tips to Get Started
Becoming an Art Director is no easy feat, but it may be the perfect career path if you have creativity and collaboration skills! Here are some tips to help you get started:
#1: Remember, it's all about teamwork.
The art director's role is to understand when and how to utilize the talents of team members. A successful art director can utilize the strengths of each team member to create a cohesive and effective final product.
#2: Think outside the box.
An art director's job is to develop creative solutions that achieve the client's objectives. This means thinking outside the box and coming up with original ideas to capture the target audience's attention.
#3: Be organized and detail-oriented.
An art director must be organized and detail-oriented to manage the entire production process from start to finish. This includes ensuring that everything stays on track and within budget.
#4: Create a fantastic portfolio.
As an art director, your portfolio is your calling card. Make sure it is up-to-date and showcases your best work. This will help you stand out from the competition and land the job you want.
#5: Don't be concerned with the pecking order.
The art director is at the top of the creative food chain in many organizations. Some may report to a senior creative or even a CEO. The important thing is to focus on doing your job well.
#6: Be confident with feedback.
An art director must be confident in their ability to give and receive feedback. This is essential for ensuring that the final product is the best it can be.
#7: Be prepared to work long hours.
An art director's job is often demanding and may require long hours. This is especially true if you're working on a tight deadline. However, the satisfaction of seeing your creative vision come to life is worth the extra effort.
#8: Learn about the job and never stop learning!
The best way to learn about the art director's job is to gain experience. This can be done by interning at an advertising agency as a junior creative or freelancer. You can also learn about the job by reading books and articles or attending seminars and workshops.

Classes for Video Art Directors
The FMC Training Network offers the best art director classes to help you learn the skills you need to succeed in this field. Our Video Art Director course is designed for those who wish to use their practical experience with new technical knowledge to help inspire and guide the design team's vision.
This training includes 9 days of live sessions and is packed with valuable information on all aspects of art direction, from concept development and storyboarding to design and production. Our classes are taught by industry-leading instructors familiar with the latest trends and technologies. As a result, students who take our art director classes will be well-prepared to enter the workforce and make their name in the industry.
Live sessions include:
Contact us today to learn more about our program and how we can help you achieve your career goals.
In Summary
The path to becoming an art director is not always linear. Many art directors start in other roles, such as junior creative or freelancers, graphic designers, or copywriters, before eventually moving into an art director role. Working as freelance creatives before taking on a full-time role allows them to build a portfolio of work that they can show to potential employers.
No matter what path you take to become an art director, one thing is for sure: it will be filled with creativity and teamwork. So if you're up for the challenge, then go for it! Who knows where your creativity will take you.
Join our ever-growing Facebook group and ask any video art director questions you might have!