Adobe Acrobat Pro DC is a versatile solution designed to work seamlessly on any device. It was first released in 1993 as a simple program to view documents on the internet before evolving into what we know today. It provides users and businesses with better ways of working with portable files yet editable at any time without worrying about losing information or re-formatting pages when going back between devices. The software enhances your experience with a consistent user interface across desktop, web browser, and mobile platforms.
In this guide, we will discuss what Adobe Acrobat Pro is, when it was created, its benefits, its properties, where you can get it from, the cost, and everything else you need to know in order to install and use it!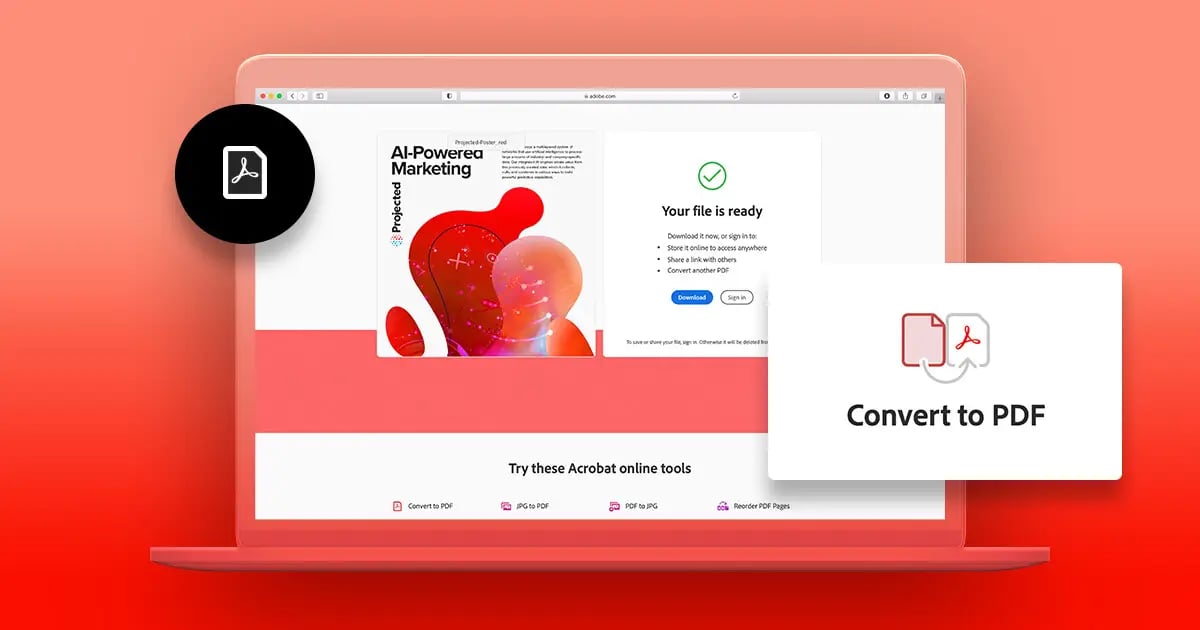 Use Code: BLOG10 At Checkout To Save 10% off our Online Adobe Acrobat Courses
Table of Contents
What is Adobe Acrobat Pro?
Adobe Acrobat Pro is the latest and most advanced version of Adobe Acrobat. It was created to make it easier for business professionals to create, edit, and sign PDF documents. It has several features that make it an essential tool for any business professional.
When Was Adobe Acrobat Created?
Since it was launched back in 1993, Adobe Acrobat Pro has been the gold standard for PDF software. With each new version, Adobe has added new features and improvements, making Acrobat Pro the most powerful and user-friendly PDF editor. The most recent version includes a variety of enhancements, such as a new unified user interface, support for touch-enabled devices, and improved document security.
What Are the Properties of Adobe Acrobat Pro?
Some of the fundamental properties include:
Creating, editing, and signing PDF Documents Made Easy
Adobe Acrobat Pro offers a variety of features that make working with PDF documents more manageable than ever before. With the ability to create, edit, and sign PDF documents, you can streamline your workflows and save time.
Adobe Acrobat Pro also offers the ability to create forms and surveys, making it easy to collect data from clients and customers. Additionally, Adobe Acrobat Pro offers tools for collaboration, making it easy to work with others on projects.
Share Your Documents With Others Efficiently
Adobe Acrobat Pro makes it way easier to share documents with others. Simply email the document as an attachment, or save it to an online platform such as Google Drive or Dropbox. The recipient will be able to check the document using any PDF viewer and will be able to print or download a copy for their own records. This means that you can easily collaborate on projects with colleagues or clients without worrying about compatibility issues.
Professional and Polished Documents
Adobe Acrobat Pro is a powerful document creation tool that offers a variety of features to help you create professional-looking documents. With Acrobat Pro, you can easily add text, images, and other content to your documents with just a few clicks. Likewise, you can customize the look and feel of your documents by choosing from a variety of fonts, colors, and layouts.
Keep Your Documents Safe
One of its most valuable features is the ability to password-protect PDFs. This can help prevent unauthorized access to sensitive information. To password-protect a PDF, simply open the document in Acrobat Pro and click on the "Protect" button in the toolbar. From there, you can set a password and choose what level of access you want to allow.
For example, you can allow users to view the document but not make any changes or allow full access. Once you've set a password, anyone who tries to open the document will be prompted to enter the password before accessing it.
Available on Windows and Mac
Adobe Acrobat Pro is a versatile and user-friendly PDF editor available on both Windows and Mac operating systems. It offers a wide range of features for PDFs, and it integrates with other Adobe Creative Cloud products for a seamless workflow.
Adobe Acrobat Uses
Adobe Acrobat Pro is the ultimate PDF tool. It can do everything from creating and editing PDF files to converting them to other formats. Here are some of the most common uses for Adobe Acrobat Pro among creatives and business professionals:
Editing PDF Files
Adobe Acrobat Pro is a powerful PDF editing tool that lets you make changes to any PDF file, no matter how large or complex it may be. With Adobe Acrobat Pro, you can effortlessly edit PDF files, and the results are professional and high-quality. Whether you're looking to make a few small changes to a document or want to redesign a complex PDF file completely, this is the perfect tool for the job.
Converting PDFs to Other Formats
Adobe Acrobat Pro is the most efficient tool to convert PDFs into various file formats. With just a few clicks, you can turn a PDF into a Microsoft Word document, an Excel spreadsheet, a PowerPoint presentation, or even an HTML page. This makes it incredibly easy to reuse PDF content in many different ways. And because Adobe Acrobat Pro preserves the original formatting of your PDF, you can be confident that your converted files will look just like they did in the original PDF. Whether you're looking to reuse PDF content for work or personal use, Adobe Acrobat Pro is the perfect tool.
Signing PDFs
Adobe Acrobat Pro is a powerful PDF editing tool that lets you easily add your own digital signature to any PDF document. This makes the document legally binding, which can be extremely useful for contracts and confidential agreements. With so many features, it's no wonder Adobe Acrobat Pro is the preferred choice of legal professionals around the world.
Creating PDF Forms
Adobe Acrobat Pro is a powerful tool for creating PDF forms. You can add text fields, checkboxes, and other form elements to your PDFs, making it easy for users to enter information. You can also create surveys and questionnaires that can be easily completed online. And thanks to the form tracking feature, you can see who has filled out your form and when they did it. With Adobe Acrobat Pro, you can streamline the data collection process and make it easier for users to provide the information you need.
Protecting PDF Files
As we previously stated, Adobe Acrobat Pro lets you protect your PDF files with passwords and encryption. You can even prevent others from copying or printing your documents. With password protection, you can restrict access to your PDFs, ensuring that only authorized users can view or edit the document. You can also encrypt your PDFs, making it impossible for anyone to access the file's contents without the proper decryption key.
Optimizing PDF Documents
By using the Optimize PDF tool, you can compress your document so that it is smaller and easier to share. You may want to use quality settings which will determine how well images are preserved when compressed; Acrobat Pro users have access to preflight tools available in this program, such as comparing documents against profiles for various issues related to print production or fixing misspellings automatically!
Where Can You Download Adobe Acrobat Pro?
Adobe Acrobat Pro is available as a subscription-based service from the Adobe website. It includes all of the features of the previous versions and some new ones. The cost for a subscription is $14.99 per month, or you can purchase it outright for a one-time fee of $449.99. The software can be perfectly used on both Windows and Mac computers. Adobe offers a free trial of the software, so you can try it before buying it. If you decide to subscribe, you will have access to all of the latest updates and features as they are released.
In Summary
Adobe Acrobat Pro is a fantastic PDF tool that offers a wide range of features to help you streamline your workflow. With Adobe Acrobat Pro, you will easily convert PDFs to other formats, merge and split PDFs, add annotations and comments, fill out forms, and much more. In addition, Adobe Acrobat Pro offers robust security features to help you protect your PDFs from unauthorized access. So what are you waiting for? Try Adobe Acrobat Pro today and see how it can help you get more done in less time.
Our introduction course is the right place to start if you need a thorough guide to using all of its features. You'll learn how to create PDFs from scratch, convert existing documents into PDFs, and edit PDFs to change their appearance or add new content. By the end of the course, you'll be an expert at using Adobe Acrobat Pro. So why wait? Enroll today and get started on your way to becoming a PDF pro!
Adobe Certifications & Prep Courses
Are you looking to get Adobe Certified?
FMC Training is the leading provider of Adobe certification exams. We've helped thousands of people just like you pass their certification exam and land that dream job. Our training material is written and recorded by industry experts who know what it takes to succeed in today's competitive market.
Join our ever-growing Facebook group and ask any Adobe Acrobat questions you might have!